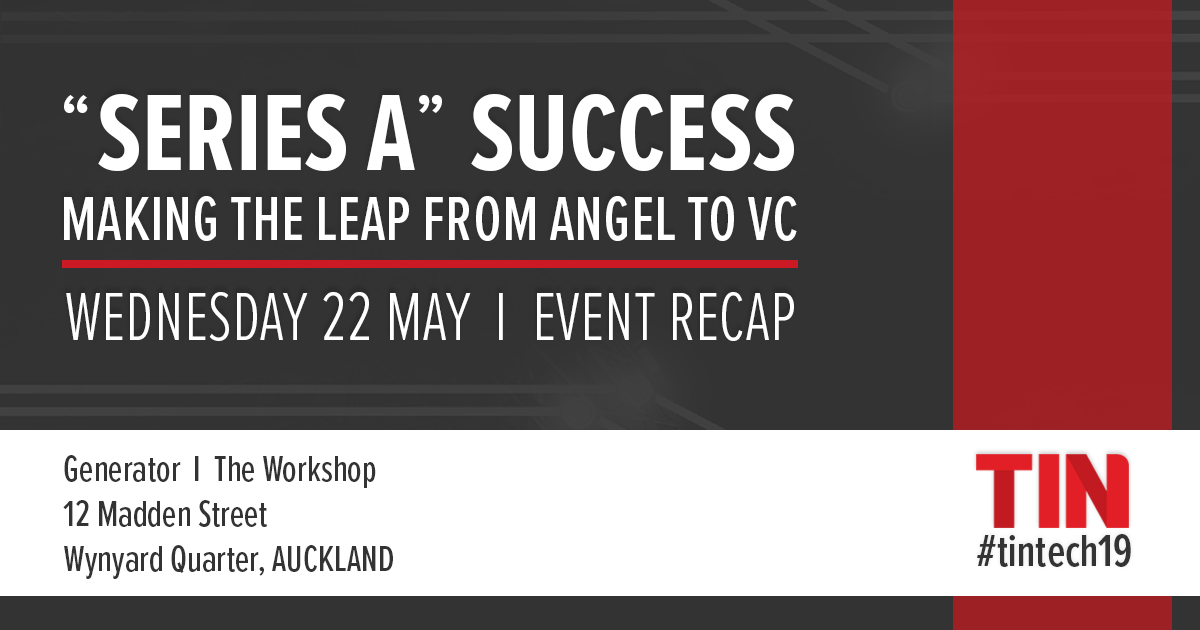 A crowd of more than 120 tech investors, TIN companies, government agency representatives and tech ecosystem enthusiasts packed the Generator last Wednesday evening for our Series A Success event – Making the Leap from Angel to VC.
The Techweek19 event provided the perfect backdrop to the launch of our fourth annual Investor's Guide to the New Zealand Technology Sector Guide, produced on behalf of the Ministry of Business, Innovation and Employment (MBIE). Over the course of the past four years, VC investment has grown from $60m to $270m¹ and New Zealand's technology ecosystem has become increasingly sophisticated. The guide was launched by Abbe Marks, Senior Policy Advisor to the Digital Economy at MBIE, who said that the guide helped support the continued growth of the tech sector in New Zealand by providing global transparency and visibility, and presenting a compelling case for investment. The guide is available for free and you can download a copy here.
The guide, which draws on data from the 2018 TIN Report as well as recent angel, PE and VC investment statistics, shows that a surge in investment in NZ tech companies – particularly from the US – is set to propel our tech export revenues to record levels this year. Angel investment in early stage technology companies reached a record level in 2018 at $99.1m²; a 31% increase over the past year, and there was also significant capital investment in technology companies as part of the $1.1b³ in PE and VC funds invested in NZ companies in 2018. With further sustained growth and support, we believe that it has the potential to become our leading source of offshore income.
"Unless we invest back into New Zealand, it won't become the kind of place we want for our children."Grant Straker, Straker Translations
Our stellar panel of companies at last week's event featured Jo Mills of Fuel 50; Alex Fala of Vend; Mike Carden of Joyous and Grant Straker of Straker Translations. They were joined by investors John Henderson of AirTree Ventures; Jason Graham of Movac; and Chintaka Ranatunga of Global From Day One Fund II. Rebecca Smith, Head of Listings & Capital Markets at Nasdaq South East Asia, also joined the discussion to offer advice to companies aspiring to list on the Nasdaq.
The panel offered candid insights on the relationship between investor and CEO or founder, with John Henderson saying the quality he most looked for in a company was "magnetism". Meanwhile, Alex Fala maintained that trust was vitally important in managing the expectations of investors. "Taking the time to build the relationship is crucial," he said. Jo Mills talked about the importance of approaching lots of investors but researching each one and then targeting those that "fit with you."
The panel also spoke about the need for completing your due diligence first, and that VCs are a way of accessing contacts, skills and expertise. Jason Graham raised the importance of "self-awareness of gaps" in order to maximise the impact a VC can have.
Chintaka Ranatunga said that he is a fan of New Zealand companies that are trying to build substance – and when addressing comments about moving his company headquarters down country to Gisborne and how that might look to investors, Grant Straker said that "unless we invest back into New Zealand, it won't become the kind of place we want for our children." This was met with applause from the enthusiastic audience.
Mike Carden – who successfully exited Sonar 6, and has gone back into the tech start-up world with Joyous – talked about the changes in funding and the importance of valuation. As competition to deploy capital has increased, increasingly seed funding has moved from "writing that one cheque to writing a cheque that enables participation at later stages, and understanding that this impacts company valuation."
The evening concluded with a lively audience Q&A, with attendees drilling down on many of the points raised by the panel. Further commentary and insights from the event will be published in the 2019 TIN Report, due to be released in October.
–
EY/NZVCZ New Zealand Private Equity and Venture Capital Monitor 2019. This figures is Venture Capital only.

PWC/Angel Association NZ (2019). This figure is for technology companies only.

EY/NZVCZ New Zealand Private Equity and Venture Capital Monitor 2019. This figure is Venture Capital and Private Equity.

See the Photos
---