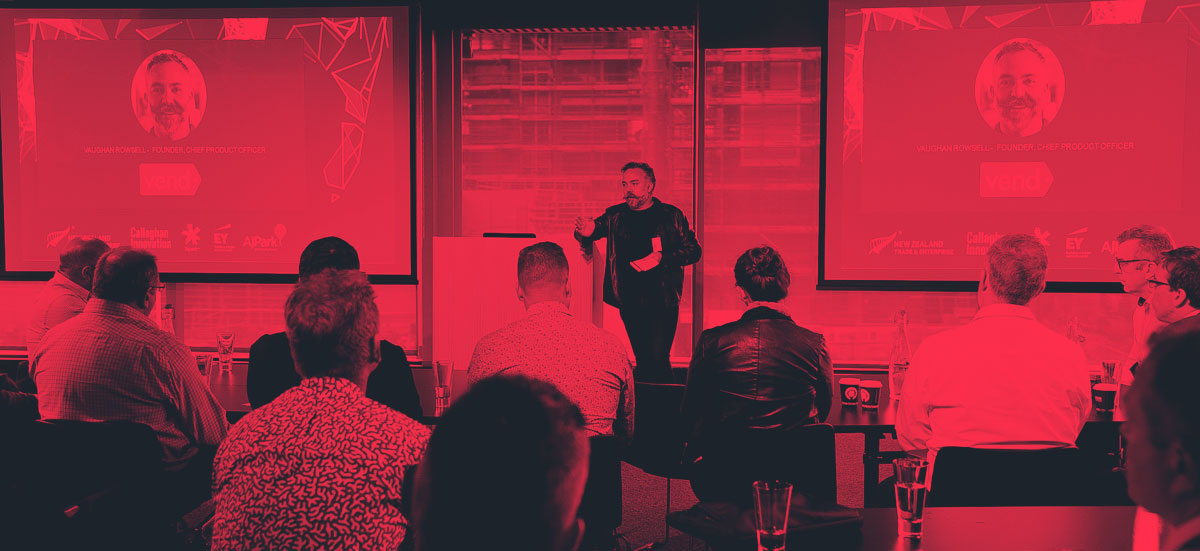 Around thirty CEOs from TIN companies across the country gathered at the new high-tech Generator co-working space in Auckland's Viaduct, to discuss the topic "CEO Learnings: Reflections on What Makes an Effective Tech CEO in 2017."
"On a high growth track, you are always carving off a new path – whether that be intentional or accidental. There is no handbook."Vaughan Rowsell, founder Vend
Hosted by MC Vaughan Rowsell, Chief Product Officer at Vend (also founder and former CEO), this TINShed breakfast meeting provided opportunities for candid sharing of real leadership experiences.
Rowsell introduced the role of tech CEO as a challenging one. "On a high growth track, you are always carving off a new path – whether that be intentional or accidental. There is no handbook." While a default response to these many challenges might be to adopt a "command and control" leadership style, Rowsell maintains that this is ineffective – "ultimately you just hit the wall."
Vaughan's four key competencies for being an effective CEO:
Keep the wheels on

Great CEOs are great storytellers. An important part of the role is to continually convey a positive story to shareholders, the Board, and staff members about "why we are doing this."

Adaptability

Be okay to work off script. Adjust "the plan" as you go (it is important to have a plan though).

Balance & resilience

Acknowledging that it's going to be hard and avoiding "imposter's syndrome" – feeling like you are out of your depth and shouldn't be there. It's OK to put your hand up and say, "I don't know." The telling signs that you are falling short on this competency are continual late night workshifts and weekend work – "it won't be sustainable."

Humility

The ability to acknowledge when you "screw up", and the realization that it's not "all about you- your plan is not always right."
A significant challenge for any tech CEO is knowing how to scale their business at the right pace, but still maintain balance. Vaughan's approach at Vend was to work on the principle of raising money every two years. "Plan two years out and execute ruthlessly on that plan- adapting as you go." He has been through this process six times with Vend, and noted that the capital raising process "gets much harder with progressive investment rounds" – with one of the last rounds stretching out over a nine month period. This necessitates always having a "Plan B" for when the "money tap" is turned off – "if this all ended tomorrow, we need to know how we will scale the business back, in order to reduce the burn and still break even. "
In a round table discussion, like-minded TINShed participants shared many similar business and personal issues and offered thoughts on how to negotiate these. Some examples of the topics discussed are included below:
Cultivating a successful "culture" is key. Hiring a smart team takes the pressure off – but to build one you must be thorough in your hiring process. Make the time to recruit carefully, as it will pay off in the long run.
Give yourself "permission to get out of yourself" – schedule days when you can get out of the office – work from home if this is good for you.
Make time for one-on-one meetings with key team members – focus not on setting the strategy itself, but on managing the strategic process.
When people leave the company, set an exit interview three months down the track – often they will tell you things more openly then.
Ensure you have a "sounding board" that you trust. This person should be a peer you can talk to at least a few times a year- someone to "check in" with to ensure you are personally OK and to help you maintain that balance.
Watch out for more TINShed breakfast meetings in 2018!

See the Photos
---