TIN Member Spotlight: Trimax Mowing Systems
20 June 2023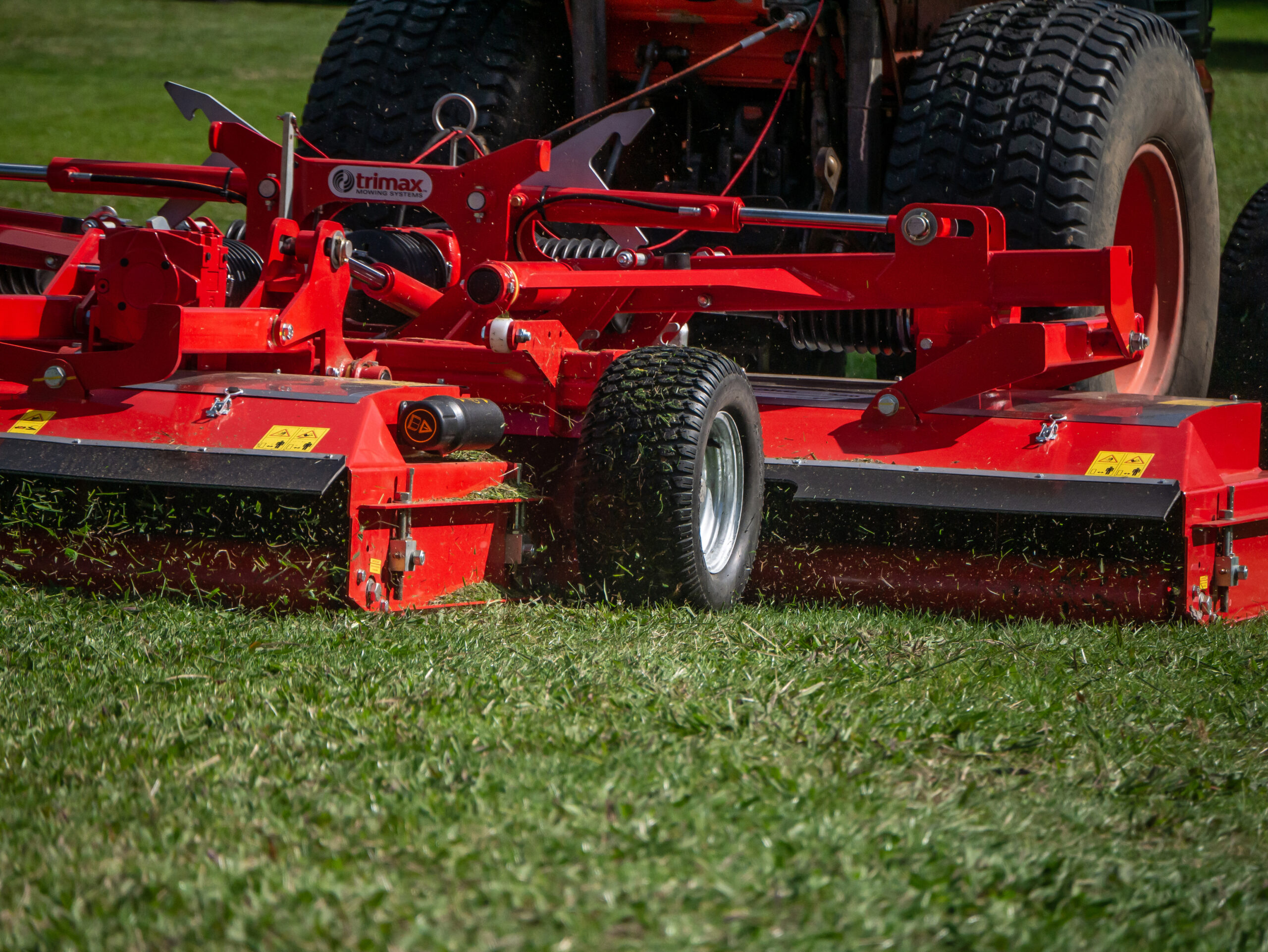 Trimax Mowing Systems (TIN #67) has been developing mowers for customers in New Zealand and around the world since the 1970s. From humble beginnings locally to becoming a world leader in commercial mowing, Trimax today has manufacturing facilities in New Zealand, Australia, the United Kingdom, and the United States.
The company and its founder are so passionate about innovation that they have made this mindset part of their company purpose: …We will innovate always, never ceasing to challenge the status quo…".
In time for Fielddays, we caught up with the team at Trimax to find out more about their innovation story.
You mentioned in the 2022 TIN Report that the best business decision last year was increased investment in your digital customer engagement systems and manufacturing automation project.
Clearly, your dedication to innovation extends across the entire business not just mowers.
How has the above-mentioned increased investment changed your business?
Increasing our digital engagement direct to customers has allowed us to move from a B2B to B2C sales experience. Through investment in our digital customer platforms, we're able to provide direct touchpoints between end users and specialists within our business. We believe this has given us a real point of differentiation compared to competing manufacturers. It's also allowed us to be more in control of our market messaging and drive our own demand out in the marketplace. We're regularly undertaking customer NPS surveys as well, which allows us to measure the effect the increased engagement has on customer satisfaction.
Manufacturing automation has allowed us to scale our business whilst providing consistent high-quality outputs. Process automation improvements are designed and tested in our New Zealand facility and exported to our other facilities, allowing efficiency to be multiplied across the business. One of the main challenges has been identifying where to implement automation and what processes are the highest priority, so it's been a journey. And it's 'long-game', but 12 months in we're starting to see real returns. One of the great benefits of automation is its giving some of our long-time staff opportunities to upskill. These are staff who may have spent their career 'on the tools' who are now operating robots and various technologies. It'll extend their working careers as it's not so demanding physically.
At the end of April this year you launched the Trimax Owners & Operators Club – how important is the creation of a customer community for your continued business success?
We've always heavily invested in building online communities through our social channels; however, we took it a step further by creating a closed group of passionate users who we're communicating with daily. Through this group we're already seeing huge benefits such as product feedback, customer challenges and real-life user experience situations. The group seems to highly value being able to be in instant contact with us as a manufacturer and having connections with other Trimax users in their industry.
With product innovation at the core of your business purpose, what key business and product platforms are you investing your time and effort into in 2023?
We have a wide definition of product innovation, we define our product as the overall experience that our company provides, this ranges from our physical product to service and the way we engage with our customers.
From a physical product standpoint, our equipment is already low maintenance, however we're now reaching points where we've completely designed daily maintenance of some products all together, which provides a low total cost of ownership. In times of recession or downturn end users are not only looking closely at purchase price, they're now wanting more understanding around what equipment will cost them over its lifetime. We're also innovating a lot more 'smarts' into our products, diagnostics, sensors, electrification, all intended to give the best user experience possible.
Our facilities are a huge area of investment this year also. To be able to supply product, parts, and support quickly in overseas markets, requires overseas investment in premises. Three of our four main markets are receiving significant facility expansions during 2023.
Lastly, Fieldays is back in 2023 in its usual format – How important are fairs like Fieldays for a global business like yours to have a presence at either locally or overseas?
We've always believed that having a presence in our own backyard is extremely important as a local manufacturer. Although Fieldays has changed a lot over the years, it's still a great place for us to interact with a wide range of our customers across different industries. We have a range of products specifically designed for the NZ Ag and Horticulture markets, but we also get to catch up with a lot of our municipal customers, lifestyle block owners and our dealer network. This Fieldays we're releasing our new Trimax Topper, a pasture mower designed for agricultural topping. Fieldays is the perfect place to show it off.