2019 REGIONAL TIN REPORT LAUNCH – RECAP
12 November 2019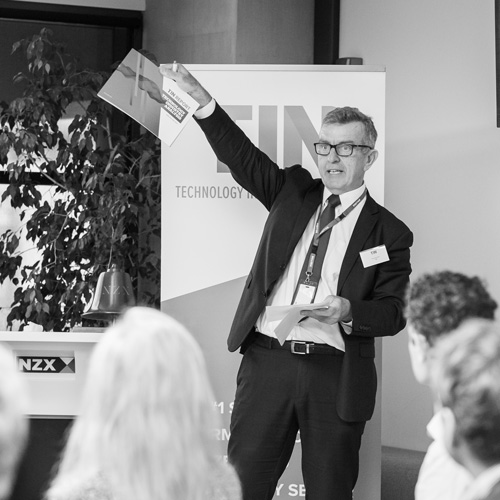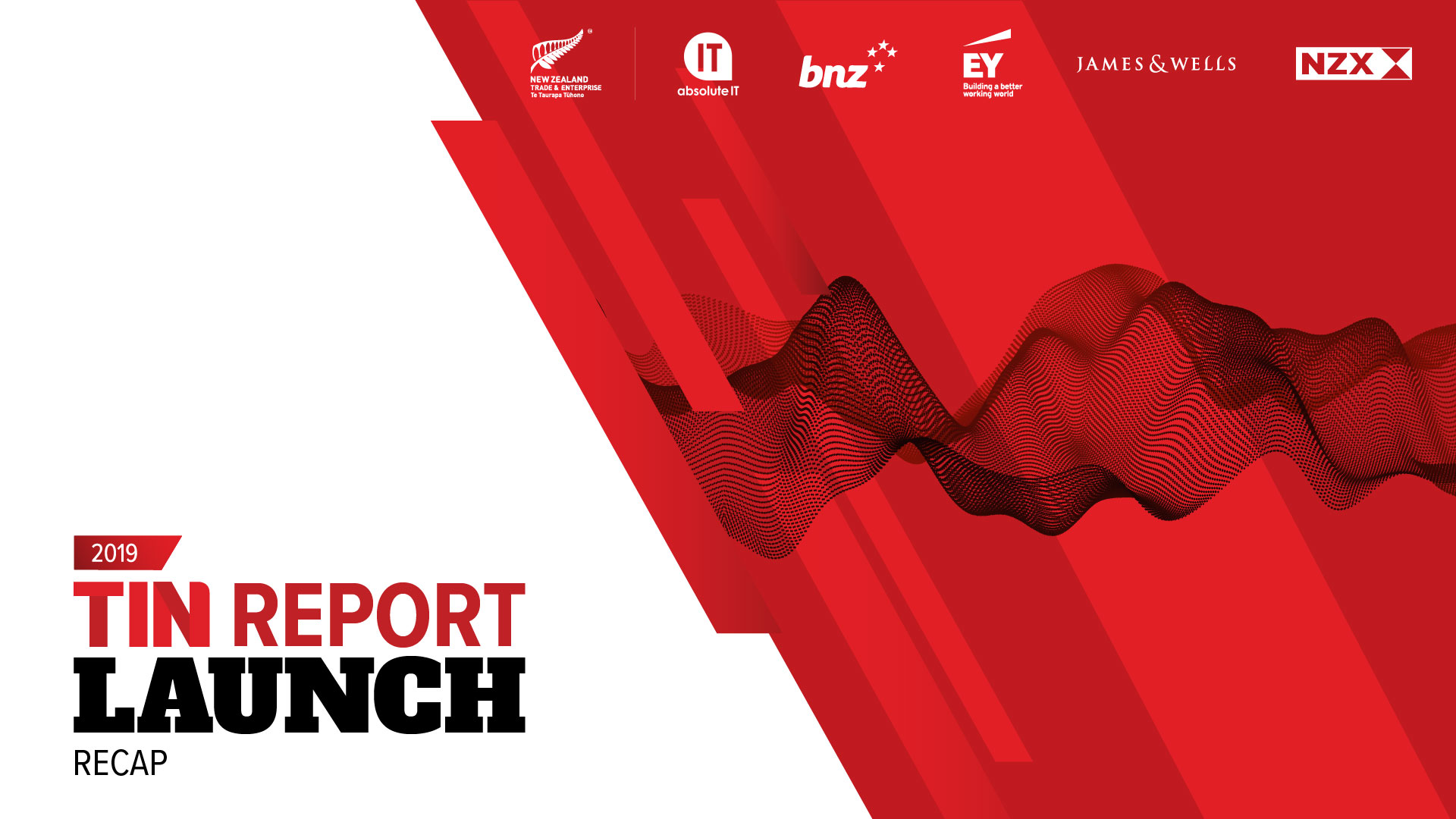 ---
Travels with TIN 2019
As we update you on TIN's travels as part of our 2019 TIN Report roadshow, we'd like to acknowledge the ongoing support of our growing stable of sponsors and the role they've played in taking our message around the country, including New Zealand Trade and Enterprise, Absolute IT, BNZ, EY, James & Wells and NZX. IDA Ireland joined us this year as an event sponsor in Christchurch and Wellington, underscoring the importance of our growing international markets.
Many thanks also to our speakers for their insightful and candid comments, for the thought-provoking discussion they generated, and to all who joined us at our launch events as we celebrated another record-breaking year in tech. None of this would be possible without you, the TIN community, and we salute you for your successes.
[ess_grid alias="2019-TIN-Report-Sales"]
---
First stop, Christchurch
We welcomed a close community of TIN companies and supporters to our launch in Christchurch in what was an action-packed week for the tech ecosystem. With the Angel Association Summit also taking place in Christchurch, there was a host of investors and key influencers in town and no shortage of discussion around the growth of the entrepreneurial community and generation of inspiring start-ups.
As part of his launch presentation at Christchurch's BizDojo, Greg Shanahan highlighted the contribution that the Canterbury region makes to the New Zealand tech sector. Maintaining its strong focus on high-tech manufacturing and encouraging growth of the ICT sector, the region is seen as a persistent driver of innovation within the wider economy, with revenue growth of 10.3% over the past year.
The region boasts 24 companies in the TIN200, of which more than a third are foreign-owned – the highest proportion of any region in the country. With 7.4% growth in employment in the past year, the foundations are set for a future increase in jobs in the region.
Local gas analysis company Syft Technologies tied for top spot in the Absolute IT Supreme Scale-up awards with $8.9m revenue growth over the past year, while Taska Prosthetics – creator of the world's first myoelectric prosthetic hand – was recognised as one of the top ten most promising companies on the NZX Early Stage Companies list. CEO Jamie Cairns joined fellow tech leaders Margaret Pickering of MTech Games; Stuart McKenzie of ArcActive and Michael Trengrove of Digital Future Aotearoa in a panel discussion on how to better drive their technology business outcomes.
Stuart McKenzie, CEO of AA Carbon battery producer ArcActive, discussed how the 2011 Christchurch earthquake was the catalyst for implementing his awareness of the growing potential of carbon technologies. "I liked the possibilities of low carbon," McKenzie commented, "but it wasn't until after the earthquake that I got the courage to put things into action."
"We're after wellbeing and prosperity not only for our country but also for communities, right down to families crossing financial, cultural, and geographic lines."Michael Tengrove, Digital Future Aotearoa
The panelists also discussed how their technology businesses are driven by personal or social motivations. Michael Trengrove of Digital Future Aotearoa said that they're seeking a utopia of sorts. "We're after wellbeing and prosperity not only for our country but also for communities, right down to families crossing financial, cultural and geographic lines."
Jamie Cairns added that, "Tech is also about restoring the ability to do things in the first place. It's about creating real benefits for individuals."
Margaret Pickering, Co-founder and COO of MTech Games, a startup that provides VR solutions for rehabilitation, agreed, adding: "Traditional wheelchair access isn't in line with possibilities for those who use wheelchairs, therefore we're using tech as a tool to create real-world benefits." MTech Games has developed a simulator for 'wheelchair pilots', helping patients learn wheelchair skills in a safer environment using computer simulation.
The panel also discussed the challenges of product development, saying it can at times be expensive and difficult to run in New Zealand because of scale. They discussed that with New Zealand's small size and geographical isolation, some technology businesses will either have an export mindset from the outset, or, in some cases, may need to partly relocate. However, they agreed that a positive outcome of our small size means that it doesn't take much to switch the dial in terms of restoration and other aspects of social impact.
As Stuart McKenzie described, "We look after ourselves in the first instance but it is the wider social impacts that give us the best returns".
Next stop, Wellington
With Wellington the fastest-growing region in this year's TIN Report, there was a lot to celebrate in the capital city when we launched the report to an excited tech community there last week. Hosted by our newest sponsor, NZX, in their waterfront offices, the event was an opportunity to toast the region's success and take stock of the challenges and opportunities that have featured on the radar of Wellington's tech companies in the past year.
Along with the key highlights of the Report, Greg Shanahan gave a deeper dive into Wellington's record growth of 17.5%, which made it this year's fastest-growing region.
Wellington is an ICT powerhouse – thanks in large part to EY Ten Companies to Watch category leaders Datacom and Xero – and has 25 companies in the TIN200. There's also a strong demand for skilled workers, with nearly 1,650 new jobs created this year and the region employing just over 13,000 people globally.
Alongside the tech titans, there is plenty of new talent coming through. Wellington-based companies Montoux (a data platform for the insurance industry) and Passphere (an online event management platform) were recognised in the NZX Early Stage Companies top ten most promising list, selected for their innovation and international ambitions.
The 2019 TIN Report presentation was followed by a panel discussion with three Wellington commentators at the forefront of innovation in technology: Kylie Price, head of research technology at the Malaghan Institute of Medical Research; Siobhan Bulfin, Founder and CEO of Melon Health, which develops digital self-management programmes for healthcare; and Darryn Pegram, CEO of FarmIQ, an agritech software company. The panel discussed the elements that have helped and hampered their tech progress in the past year, as well as the increasing role that social enterprise will play in the tech sector's success.
The Malaghan Institute is a world-leading biomedical research institute, and Kylie Price commented that technology was key to finding treatments and cures for diseases such as cancer, asthma and allergy. Kylie said this requires a real understanding of the science and staying at the forefront of biomedical technological advancements worldwide, to best match the needs of the scientists to the most cutting-edge technologies available.
Melon Health's Siobhan Bulfin explained that the resilience fostered by New Zealand's geographical isolation drives much of the inventiveness for which Kiwis are so well-known overseas. Her company's entry into the US market was a necessity, she said.
"The US is the most highly competitive health-tech market in the world. We wanted to take off the blinkers and be acutely aware of what others were doing. New Zealand being a one-payer system and slow to adopt health technology meant we had to seek new markets offshore," she said.
Darryn Pegram discussed the expanding capability of FarmIQ's farm management software to save time and resources, as well as responding to environmental pressures such as freshwater protection. Darryn explained that automation is the obvious answer for farming: "Farmers are practical people – they didn't start farming to sit by a computer." He said that adapting to digitisation was a critical part of the struggle for farmers, along with a lack of connectivity in rural areas.
The panel also commented that the implications from technology development are in many ways uncertain and New Zealand's entrepreneurial and adventurous approach gives us a competitive edge. As Kylie Price pointed out, "There is a certain amount of risk involved with what we do – we don't have a crystal ball."
Our travels don't stop there! Featuring in our next issue of TINWire will be Tauranga, Dunedin and the Waikato. For a more detailed breakdown of the regional stats from this year's TIN Report, please see here.

See the Photos