Global changes creating new opportunities for agritech
23 July 2021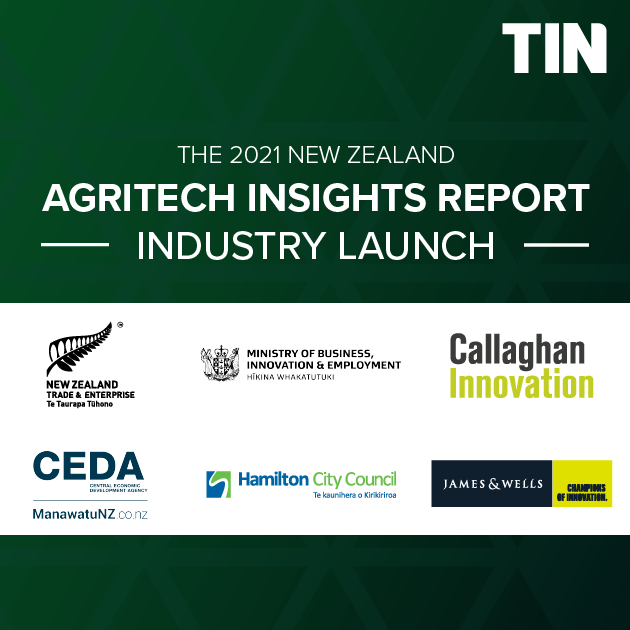 Download the FREE NZ Agritech Insights Report
TIN's industry launch of the NZ Agritech Insights Report
Following the formal launch of TIN's second annual NZ Agritech Insights Report at Fieldays last month, a recent virtual panel discussion provided an opportunity for more than 220 participants to hear more about the drivers for further growth in the Agritech sector, and challenges facing future innovation.
The NZ Agritech Insights Report provides a closer look into New Zealand's agricultural technology sector based on data from TIN's 2020 survey results, including size and revenues of the leading Agritech companies, key export markets, investment challenges and opportunities.
The report showed that investment in the Agritech sector has increased significantly over the past year particularly from outside New Zealand.
Historically, Agritech has been a significant contributor to theTIN200 (TIN's annual surveyed list of New Zealand's 200 largest technology exporters) and last year Agritech firms generated $1.4B revenue, representing 10.8% of the total TIN200 revenue.
Representatives from a wide cross-section of the NZ Agritech sector featured as panellists in the virtual discussion. The line-up included Dean Tilyard, venture partner at Finistere Ventures; Jason Wargent, chief science officer at BioLumic; Leila Deljkovic, co-founder of Cropsy Technologies; Eleshea D'Souza, corporate development manager, LIC; Dylan Hughes, head of sales and partnerships at UBCO; and Brendan Mahar, international market manager, Latin America, at NZTE.
Greg Shanahan, managing director of TIN, opened the discussion by describing how the dramatic changes in the global economy were creating new opportunities for Agritech.  
"As COVID-19 continues to impact the world's food production supply chains and labour markets, there's never been a greater opportunity for NZ's Agritech sector companies to prove their potential as both problem solvers and profitable investments – and collectively, to be a positive influence on the world," he said. 
Drivers and challenges for innovation  
So what, he asked the panellists, is driving Agritech innovation forward in New Zealand, and what is holding it back? 
Dylan Hughes of electric utility vehicle company UBCO, led the discussion: 
"New Zealand is a very resourceful country, and is generally strong at adopting and practically applying new technologies and innovations," he said; "But digital connectivity is currently holding us back. Moving forward, I think it'll play a big part in terms of products, hardware, software and working together, and supplying a full digital platform." 
"From our perspective, the main driver is around productivity and efficiency gains," added Brendan Mahar of NZTE, which commissioned the report. "Farmers and producers are calling out for this as they become more competitive globally, but what's holding some farmers back is a reluctance to adopt new technologies, due to a traditional way of doing things in some markets.  
"The key challenge at the moment is how we overcome those barriers and get farmers and producers to take up some of those new solutions."  
Jason Wargent of BioLumic, a Palmerston North-based biotech company utilising UV light to enhance seedling growth and yields, said industry growth was about medium-term gain.  
"Building a valuable Agritech company takes time – it's absolutely a marathon and not a sprint. It's about creating an enduring company, trying to carve your way to a profitable business and building a path to success. 
"You need solid foundations and depth of tech, as opposed to a shiny label that you slap on what you're doing. I believe that New Zealand Agritech entrepreneurs need to think deeply about constructing strong proof points around their technology as they start to build their company. 
"A way of building that foundation is people," added Wargent. "With a great team and the right people in the right jobs, you can build an enduring company."   
Eleshea D'Souza of Agritech and herd improvement co-operative LIC emphasised the need for innovative and sustained Agritech to meet the increasing need to grow food to feed the global table.  
"Although New Zealand has a strong and developing Agritech ecosystem, we face a number of challenges," she said.  
"Geographically, we're a long way from the rest of the world. We're tracking faster towards commercialism, but we need to have more ideas flowing through the pipeline.  There's often a lengthy period as you move towards development, so you need to have that risk appetite to keep investing and getting these products developed." 
Leila Deljkovic is one of four co-founders of Cropsy Technologies, an Agritech start-up focused on creating data for the fruit-growing industry.  
"Labour shortages, a changing climate and regulatory pressures are all drivers of innovation but some of the technologies being developed aren't in tune with the needs of the end users. This then leads to limited take-up," she said. 
Although the NZ Agritech Insights Report outlined a buoyant investment environment for the Agritech sector, investment manager Dean Tilyard said it's clouded by high levels of uncertainty.  
"Don't forget that we're living in unusual times," he warned; "All our businesses were massively disrupted last year – we could never have predicted that. But there's a lot of investment going on and there are some interesting things happening.  
"We're seeing New Zealand companies getting larger rounds – Halter is an example of that. Investing through syndicates is really important – at Finistere we look to invest with a syndicate that can add multiple points of value to a company and be there in times of uncertainty.   
"Although it's a great time to raise money, it'll be interesting to see what the next 18 months looks like." 
Tauranga-based UBCO has just closed a successful $15m fundraising round, but Dylan Hughes says the past year has been challenging. 
 "In terms of satisfying the aspirations of investors in a world affected by COVID-19, one of the biggest challenges for us at the moment is the inability to travel, along with the supply chain," he said. 
"We're lucky that we had a strong team in place pre-COVID, so we can offer investors the stability of having a global network already in place, and the ability to ride it out," he added.  
Generating more unique IP 
Dean Tilyard says people often ask him about deal flow in New Zealand. "My general response is that there's not as much as there should be, but more than you would think," he said.  
"Moving around the country you see some really surprising companies. Around 15 Agritech companies have done Series A+ investments in the past four years.  We can certainly produce these companies but we need to do more in terms of building out the pipeline.  
"In my view, the real challenge is generating unique IP and identifying and building teams who can transition to global markets. 
"New Zealand spends $500m a year on public sector R&D which is a large amount for a country of our size," he added.  
"We've very successful at transferring that into the agricultural sector. But what we're not good at is transferring that IP into start-ups. There's a real disconnect between public sector R&D and getting it to start-ups. We should be first-class at this, and we see this as a number one issue."  
Supporting start-ups 
Panellists discussed the support, mentoring and funding available to Agritech start-ups via a range of organisations, including Sprout, Callaghan Innovation and NZTE.  
LIC launched its 'AgCelerator' Investment Fund in August last year as a vehicle to help innovators and entrepreneurs kick-start their early-stage concepts and get them launched to market. 
"With our extensive knowledge of the NZ pasture-based dairy farming market, we can offer support and advice on R&D, trials, distribution, market research and IP," said LIC's Eleshea D'Souza. "We work together with start-ups to help them get to market faster." 
"The underlying story around this is productivity and efficiency," added NZTE's Brendan Mahar. "There's an increased need to feed the world and that's only going to continue."  
"The solutions for pastoral-based farming aren't just an overnight success," added Mahar. "It's been really interesting to see the growth in horticultural and viticultural technologies, and look at how New Zealand can play a part in helping grow global trends. 
"NZTE's role is to look at how we position ourselves around the solutions we've created which are unique to NZ, and how we align ourselves to some of the global megatrends. We also explore ways to help farmers and producers integrate in order to take advantage of those technologies." 
Accessing investment, both on and off-shore 
The panellists also offered advice to Agritech start-ups on accessing investment. 
"If you're new and don't know anyone, having an introduction to a network is incredibly helpful," said Cropsy's Leila Deljkovic. "Accelerator programmes are very accessible, including Sprout." 
Eleshea D'Souza added: "Remember that you're interviewing the investors as much as they're assessing you. Ensure their values and end goals align with yours. I've been most impressed by the start-ups who've approached me directly." 
Dean Tilyard concurred. "You're immediately thinking about how the person behaves; some entrepreneurial directness is good." 
"Building connections and networks that can help you is key," added NZTE's Brendan Mahar. "There's investment out there, so get yourself prepared." 
UBCO's Dylan Hughes emphasised the value of mentorship in aiding global growth strategies.   
"Having a good mentor is really important. They've helped open doors for us overseas." 
The panellists also discussed the benefits of looking beyond New Zealand's shores for investors. 
"We raised $15m in our recent round and some of our investors who are offshore will help us get into overseas markets," said Dylan Hughes. "We assess any type of investment, but we've found that overseas ones have opened up markets we previously couldn't access."  
Dean Tilyard added: "Getting the right investors for the company is the priority over the postcode. International investors can bring value, but it's also really important to have local investors who can be right alongside the company."  
Priorities for Government going forward 
TIN's Agritech Insights Report was first commissioned by NZTE in 2020 to provide a baseline of data on New Zealand's growing Agritech export sector as the New Zealand Government launched its Agritech Industry Transformation Plan (ITP). 
One year on, the panellists listed robotics, growth of global partnerships, subsidies for electric vehicle adoption, ownership and sharing of data, and growth of investment as some of the area which Government should prioritise for the sector. 
Greg Shanahan commented, "With the vision of the Agritech Industry Transformation Plan (ITP) continuing to roll out over the coming year, there's a strong sense of purpose in the Agritech sector that is translating into additional opportunities for investment."  
BioLumic's Jason Wargent said that one area getting more attention is new cultivation methods for crops. 
"It's the idea of tech stacks where particular innovations are key contributors to lifting the effectiveness of different cultivation methods.  Some of our traditional industries are thinking about how they can expand their footprint offshore.  It's truly a space that can bring in a lot of new technologies – it's very broad-based and a huge opportunity." 
The NZ Agritech Insights Report is sponsored by New Zealand Trade & Enterprise (NZTE), Ministry of Business, Innovation and Employment (MBIE), Callaghan Innovation, Central Economic Development Agency (CEDA), Hamilton City Council, and James & Wells – with additional support from AgriTech NZ.   
The report is free to download from the TIN website, here. 
Attendees were asked a range of questions throughout the webinar. Here are the results:
1. What is the biggest challenge facing the agritech sector in 2021-22?
2. What do you think will be the key to success for the Agritech sector in the year ahead?
3. Do you believe the Agritech ITP has made a difference to the industry over the past year?
4. Do you believe the Agritech ITP will make a difference to the industry over the coming year?
Download the FREE NZ Agritech Insights Report