11 September 2019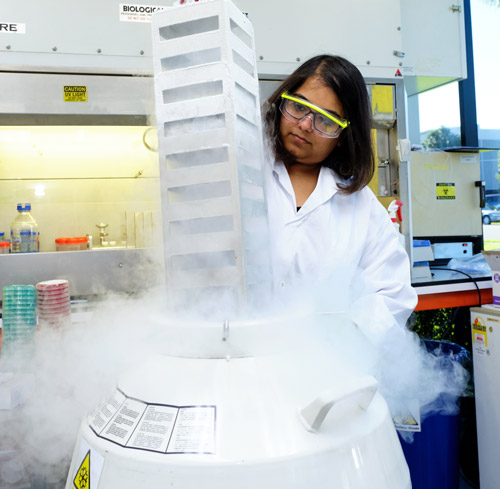 Tanvi Karnik, microbiologist, checks Aroa's cryostorage of cell lines.
Founded in 2008, Aroa Biosurgery is an Auckland-based tissue regeneration company which designs, manufactures and commercialises medical devices for complex wounds.
At its recent AGM, Aroa Biosurgery announced a maiden profit for the business and growth of around 120% over the past year to a total revenue figure of $24 million.  Brian Ward, founder and chief executive, took time out from his busy schedule to speak to TINWire about reaching profitability and what's next on the horizon for Aroa:
"We are delighted that our investors are starting to see the payoff for a number of years of investment in product development, regulatory approvals, manufacturing capacity, and more recently in a direct sales team in the United States," Brian says.
He's confident that they'll be able to remain profitable.  Their sales and marketing efforts in the US have given them a big lift over the past 12 months and they've seen good growth in their underlying wound care business, realising greater margins through selling directly to customers.  This is due in large to their reacquiring the rights to Endoform™, their first product for chronic non-healing wounds. They have since formed a 50% joint venture, Appulse Inc., with U.S. based Hydrofera to grow the channels to medical customers in the core U.S. market. The Appulse joint venture now has a 30-strong sales team on board with a new Vice President, Commercial expected to be announced shortly.
"While achieving profitability is a major milestone for Aroa Biosurgery we will continue to prioritise growth over profitability to make sure that we capture the opportunity in front of us. We want to partner with leading medtech companies to distribute our products to an even wider global audience," Brian says.
Aroa has also developed surgical implantable devices for hernia which is an area that has been growing well over the past couple of years.  "Clinical outcomes look good," Brian says.
Brian concedes that the US market is highly competitive and access to hospital channels takes time.
"The most challenging aspect in the medtech sector is that the adoption process is slow," says Brian. "You have to make a big investment in R&D up front and there are often complex regulatory requirements to contend with.  You also need to spend time developing the clinical end, resulting in a long commercial lead time.  But once you get traction you can make good progress and defend your position," he says.
Aroa is beginning to pursue incremental growth from outside the United States. In the last year alone, the company has seen rapid growth off a low base in Germany, Austria, Thailand, Canada, Jordan, India and South America, and has further distribution agreements in the pipeline.
Aroa's innovation pipeline is also looking healthy.  Brian says the company is a passionate believer in ongoing product development.  There is strong pipeline which will lead to new products in each of the next three years to leverage Aroa's established market position.
"We've got some great new technology coming down the line, but it'll be at least a year to a year and a half before it's in production," he added.
Aroa Biosurgery is a proud local employer with more than 100 development, engineering and manufacturing staff based at its plant in South Auckland.  "This is where it all happens," says Brian.
Around a quarter of Aroa's annual revenue is ploughed back into R&D which accounts for around a third of their staff.
With the profitability milestone achieved, they're now looking at options for raising more capital.  "Our Board is giving active consideration to a listing next year," says Brian.
Brian was recently honoured with the 2019 Ray Thompson Award at the Icehouse Ventures Showcase held last week in Auckland. The award is presented to "a founder that exemplifies the high integrity, proactivity and entrepreneurial energy that is synonymous with the late Ray Thomson's philosophy".  Ray was a passionate advocate for New Zealand startups and was very active in angel investor circles and within the Icehouse Ventures community. He passed away in August 2018.
In receiving the award, Brian acknowledged his supportive family of shareholders and strong network of investors, which include Movac, Sparkbox, K1W1, CureKid Ventures and the New Zealand Venture Investment Fund.
"I'm proud that we are creating career pathways for science and engineering trained people," he said.  "I am even more proud that our products are giving millions of people a head start in healing after surgery, trauma or illness.  With the foundations in place, the growth curve for Aroa is very clear."