Capital to fuel your growth
25 February 2020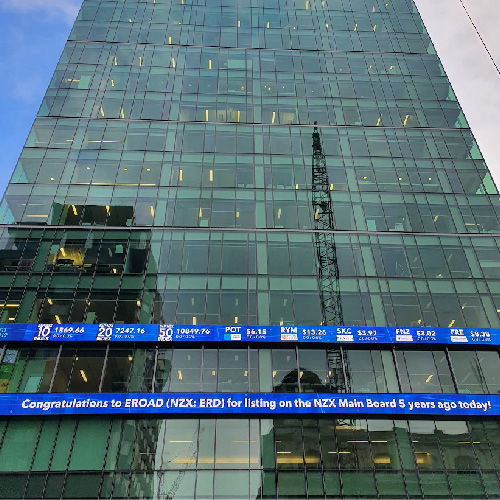 Capital to fuel your growth
Across the tech sector in New Zealand there's plenty of evidence that our new breed of innovators have shed the old "No.8 Wire" mentality to become a global showcase for technology benchmarks.
Kiwi companies are defining their place, rather than looking to the rest of the world for validation. This is an important evolution among the standout examples in our tech sector.
At NZX, we're passionate about our role in capital formation in New Zealand, and of our record in supporting the growth and global ambitions of companies like Xero, Pushpay, Serko, Vista Group, Plexure and others.
EROAD (ERD) is a great example of how the traditional Initial Public Offering (IPO) can help a company scale their business to take on the world. EROAD joined NZX in 2014 through an IPO, raising $40 million to repay its bank financing, enable existing shareholders to sell down a portion of their shares, increase transparency/credibility with stakeholders - and ultimately provide capital to accelerate strategic growth.
This includes ensuring they can scale efficiently, improve their customer experience and provide greater operating leverage. Alongside the growth opportunities in New Zealand and offshore for EROAD - like most tech companies - they are continually investing and evolving their business to remain relevant in a constantly changing environment.
The performance of our All Technology Index reflects the great support for technology stocks within our local market – and our support for the Technology Investment Network is part of our commitment to working with you to make sure we can get more of our tech sector on show on New Zealand's Exchange.
Please join our mailing list here or get in touch with us if you want to learn more about the options for fueling your growth.