Spotlight on the CMDT — Our partner in the HealthTech Report
24 February 2020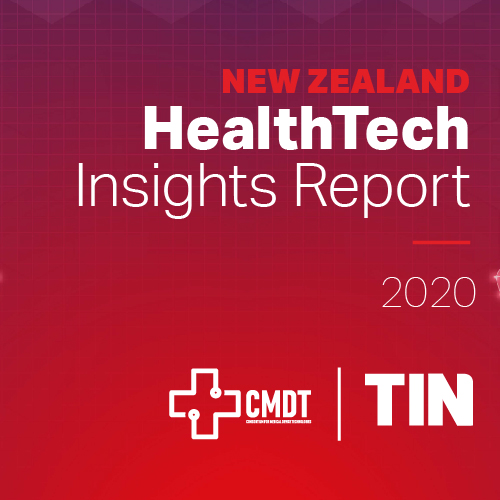 Spotlight on the CMDT -- Our partner in the HealthTech Report
TIN has collaborated with the Consortium for Medical Device Technologies (CMDT) on the inaugural NZ HealthTech Insights Report, and we're delighted to launch it at our first TINTalk of 2020 on 24 March.  CMDT Co-founder and Associate Director of the MedTech Centre of Research Excellence (MedTech CoRE), Diana Siew, has been a driving force in the Report's creation and development.  It arose from conversations she had with fellow healthcare industry leaders who agreed that there was no single shared overview of the NZ healthtech sector that illustrated its potential for economic growth and social contribution.
CMDT was established in 2012 to help connect the research community in New Zealand working on medical technologies, with the aim of growing the medical device industry in New Zealand. It was formed under a collaboration agreement between The University of Auckland (host), Auckland University of Technology, University of Canterbury, University of Otago, Victoria University of Wellington, and NZ's national innovation agency, Callaghan Innovation.
The organisation does this by:
- Providing easy access to research providers in New Zealand as a one-stop portal
- Facilitating collaborations with researchers, companies and government organisations
- Connecting researchers and start-up companies to the CMDT's international network
- Developing and implementing strategic initiatives to strengthen and connect the MedTech innovation ecosystem
The CMDT and MedTech CoRE
In 2015, the MedTech Centre of Research Excellence was co-founded from the CMDT platform to develop a pipeline of new technologies, and grow capability and capacity for NZ's medtech sector.
Together, the CMDT and the MedTech CoRE are a national resource linking research activities at NZ Universities and Callaghan Innovation with companies, healthcare providers, regulatory and industry bodies, the Health Innovation Hub, and the Commercialisation Partner Networks.
Success stories from the CMDT/MedTech CoRE ecosystem
HealthTech Activator: The recently established HealthTech Activator is an initiative of the CMDT partners. Based on the profile of the sector, a need was identified for more coordinated support for healthtech start-ups to scale and grow into successful businesses.  The HealthTech Activator led by Callaghan Innovation, working closely with CMDT and MedTech CoRE, will develop programmes and services to prepare early stage healthtech businesses for international commercialisation, as well as coordinating resources to better leverage existing knowledge, expertise, and links. This is a significant programme that strengthens Callaghan Innovation's healthtech sector engagement and overall support for New Zealand's healthtech sector.
The Insides Company (formerly Surgical Design Studio): A medical device developer which designs products that significantly improve the outcomes for patients with bowel cancer and inflammatory bowel disease.  Founded two years ago at the University of Auckland's Medical School Department of Surgery, with the assistance of the MedTech CORE and UniServices, the company is now worth more than $10 million. Their devices dramatically reduce the time until patients can fully use their guts again following bowel surgery – from five months to two weeks. This results in significant health benefits and reductions in clinical complications such as dehydration and infection. In June last year, the company had been granted Breakthrough Device designation by the United States Food and Drug Administration (FDA). Co-founder and Colorectal Surgeon Greg O'Grady was one of the keynote speakers at the TIN Report Launch in Auckland last year.
NZ HealthTech Insights Report
The inaugural NZ HealthTech Insights Report will launch at the 24 March TINTalk, Pathways to Success: Key Learnings from NZ's HealthTech Sector. Join us for a light breakfast as the findings of the Report are revealed and our panel, consisting of Maxine Simmons (Cure Kids Ventures), Jonathan Lucas (James & Wells), Brian Ward (Aroa Biosurgery), and Diana Siew (CMDT), explore how the successes of the NZ healthtech sector can translate into key learnings for other sectors.