Event Recap – Tackling the Talent Challenge 
17 September 2020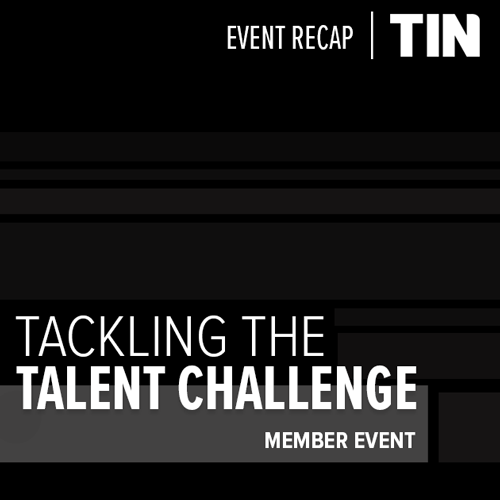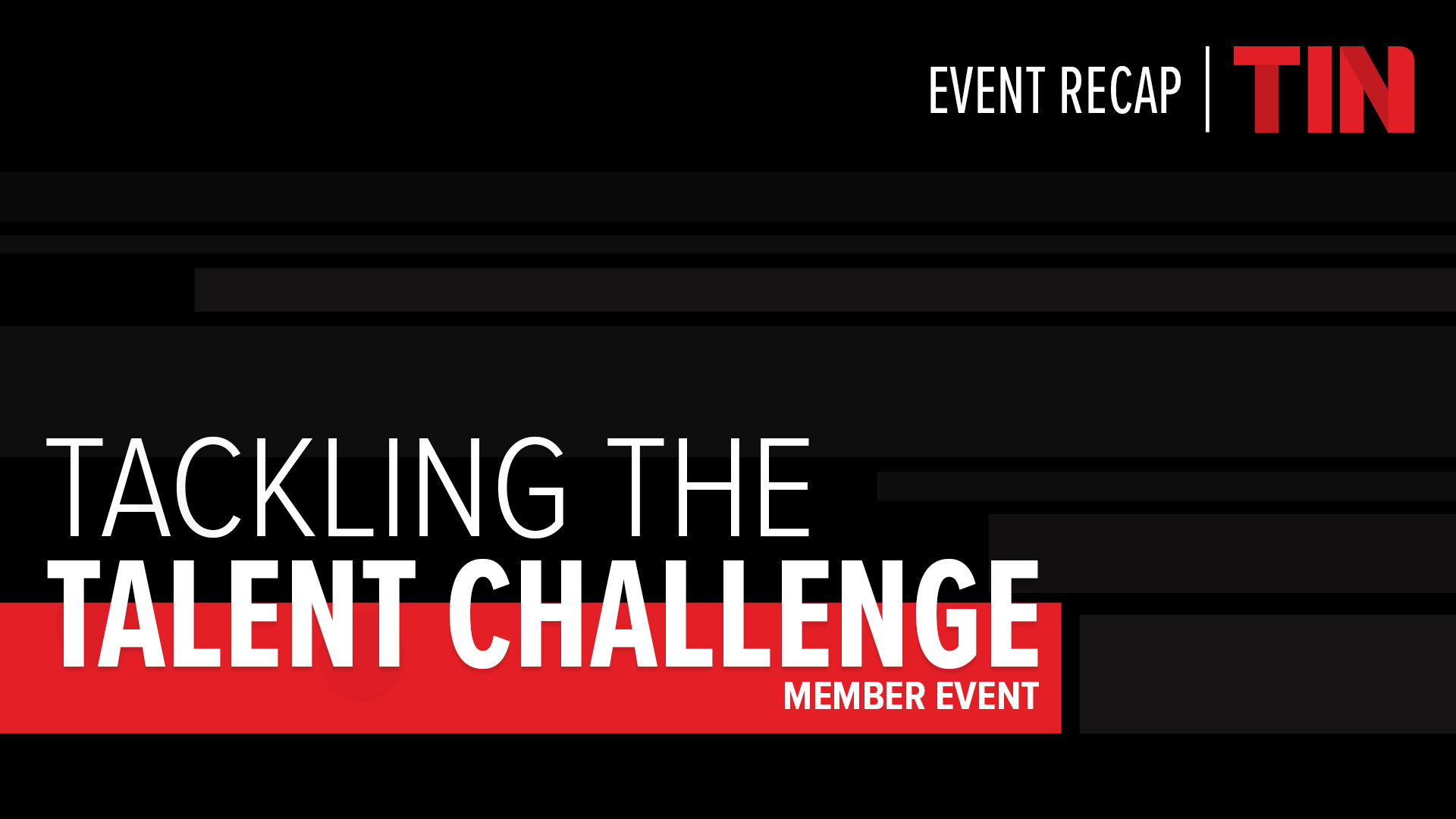 "The tech skills shortage that we're currently facing in the market is a very real problem," said Steve Cotton, Regional Manager at tech recruitment agency Absolute IT, as he opened TIN's recent  virtual roundtable discussion, called ' Tackling the Talent Challenge'.
"The tech skills shortage that we're currently facing in the market is a very real problem."Steve Cotton - Regional Manager, Absolute IT
"There are just not the numbers of people coming into New Zealand to sustain the skills shortage – we need to ask ourselves what we can do about it," Steve said, setting the challenge for  representatives from  the 20 TIN member companies who came together to  hear  best practice  examples and share ideas  with  recruitment and immigration experts who joined  the  discussion.
Kristy Verster, Global Immigration Advisor at EY, offered the following perspective,  "It's imperative that we manage the talent issue and look carefully at workforce planning. To do this, we've got to understand and navigate the immigration framework and policy, while  recognising  that the IT sector remains an attractive option with an annual average wage of $82,000."
"Immigration policy will continue to be developed, but New Zealand currently has some of the tightest border restrictions globally," Kristy said.
"There's a huge backlog with visa applications, but Immigration New Zealand  is putting  steps  in place  to address that.  They're consulting more with industry groups and business  leaders and  considering the need for adjustments into border exemptions.  Never before have we seen policy developed that's specific to employers such as the policy developed to support supermarkets during lockdown – it's a huge step forward."
Kristy also noted that workforce planning is key, saying many of  EY's  clients are setting their staff up to work  remotely and  taking advantage of tax legislation to support displaced workers in some countries.
"It's a competitive market for the tech sector and it's only going to intensify as the lack of talent intensifies."
AR helping address the skills shortage at Howick  Ltd
Auckland-based  company  Howick  Ltd  develops technological solutions for the construction industry, and CEO Nick Coubray says they've turned the current restrictions on global travel into an opportunity to advance their offering.
Augmented Reality  (AR)  technology has been used to help guide Howick's customers through engineering support requirements and is rolling out PPE-compatible hard-hats fitted with 'Mira' AR technology to new customers. You can read more about it  here.
Nick says the introduction of new technology has accelerated because of the opportunities presented by COVID-19 and they've taken on young graduates to help support it, building the team and expanding roles.
"In a downturn,  people turn to technology in the construction sector.  There are unique opportunities for new and existing  products,  and we've seen a massive acceleration, but that may change again. We've got to remain nimble and agile and adaptable."
Connecting a remote workforce is key
An increasing number of companies are using technology to recruit and upskill quickly. 

"We have a once-in-a-lifetime opportunity to address the entrenched economy disparity that exists in New Zealand, and the tech sector can play a significant part in that by taking the lead in tackling the talent challenge in these ways."Greg Shanahan - Managing Director, TIN
"We're all having a crash course in digital," said Geoff Lewis of the Productivity Commission.  "Firms are making smart use of digital so they can 'be there in the room', when they can't have face to face dealings."
Geoff says managing a remote workforce is key at this time, and good remote working practices can help offshore workers feel more connected, while  continuing  to drive international sales and marketing strategies.
"We have a unique opportunity to remove the regulatory restrictions to find the talent we need," said Greg Shanahan, Managing Director of TIN.
"Setting up an international market is a  massive investment, and we've really have to start to rebalance the opportunities for success.  COVID-19 has potentially presented us with a watershed moment  –  and being able to  select talent offshore is an exciting proposition."
Looking to education to help fill the gap
More than half the participants in the online discussion said that the most effective solution for tackling the talent challenge was increasing  the training capabilities of New Zealand's education institutions to widen the range of training options for up-skilling workers.
"We need to move the conversation away from the immigration piece," said Steve Cotton.
"There's still a lot of work that needs to be done in New Zealand to help build the talent pool.  We have to look at what's being done in the STEM sector at Universities and tertiary institutions.  There are 3,000 new roles in the tech sector each year and only 300 ICT graduates. That's a significant gap."
"It's our job to help people reskill and give them pathways into tech. There's a tremendous opportunity to develop more talent diversity here at home."
Best practice for the short and long term
Participants shared the following best practice suggestions for addressing the talent challenge now:
Upskill the existing workforce through courses, investment in automation and tech, and delegation of responsibilities
Leverage local talent more globally by redeploying talent where it's needed
Give local offices more responsibility for global tasks
Focus on retaining and recruiting talent with a passion for the business
Take a sustainable approach to workforce planning; revisit it continuously to stay on top of business demand
Improve global collaboration enabled by technology
Invest in home office set-up
Invest in virtual meetings across borders to unite teams
Ideas going forward include:
Continue to upskill internally
Work to keep staff engaged with online practices
Lobby for less restrictive immigration policies for the tech sector
Build the local talent pool by investment in reskilling pathways, including tertiary education
Stay on top of different border approaches globally to know where and how to best deploy talent
Build your brand to attract talent
Recruit through offshore entities and have talent work remotely
In closing the discussion, Greg Shanahan added, "We have a once-in-a-lifetime opportunity to address the entrenched economy disparity that exists in New Zealand, and the tech sector can play a significant part in that by taking the lead in tackling the talent challenge in these ways."
---
Our thanks to our sponsors - NZTE, EY, Absolute IT, James & Wells, BNZ, NZX – for their support of such a topical and informative event.
Trend Analysis. Research Tool. Prospecting List.
Become an official member of TIN and receive your copy of the Report at no added cost, plus discounts on exclusive events, opportunities to increase your company's profile, and connect with industry & government leaders.