TIN's NZ Agritech Insights Report launches at Fieldays 2021 

"The food and fibre sector is the backbone of our country's economy" – Hon. Stuart Nash, Minister for Economic and Regional Development and Minister of Forestry
Four days, 1,000 exhibitors and more than 35,000 people through the gates on the first day – physical Fieldays is back with a vengeance.   
After taking a break from the Mystery Creek site last year due to COVID-19, Fieldays 2021 exuded an air of excitement and eager anticipation on its opening day with record crowds expected over the coming days. 
TIN200 companies were out in force across the 144-hectare exhibition site, including Waikato Milking Systems, Gallagher, LIC, Temperzone, Datamars, Farm IQ Systems and Levno, with all of them saying it was great to be back interacting with the public face-to-face.  Cropsy, GPS-IT and Halter were just some of the early-stage agritech companies who were exhibiting. 
The Innovations Centre provided a hub for new releases and innovative ideas, including displays of potting wool and a labour-saving water trough fixing technique by senior agribusiness students at St Peter's Cambridge.  
TIN used the backdrop of the Southern Hemisphere's largest agricultural event to launch its second annual NZ Agritech Insights Report at an NZTE-hosted event at the close of the opening day on Wednesday. 
Guest speaker Hon. Stuart Nash, Minister for Economic and Regional Development and Minister of Forestry, gave an update on the Agritech Industry Transformation Plan, and acknowledged the food and fibre sector as the backbone of our country's economy.  He also said it was the most innovative sector, with agritech providing solutions to help overcome challenges, including labour shortages. 
Due to COVID-19, the Minister said that the innovation adoption curve had gone out the window as people who had never engaged with digital technology have said they now can't survive without it.   
"You've got to innovate, and be digital," he said. 
He said New Zealand had a real opportunity to be a world leader in agritech, and some companies were already proving their global significance.  
"I do genuinely believe that we can absolutely be the best in the world in what we do, and we should always strive to be the best.  Mediocrity has no place in this country," he added.  
Guests at the agritech networking event held at the New Zealand International Pavilion included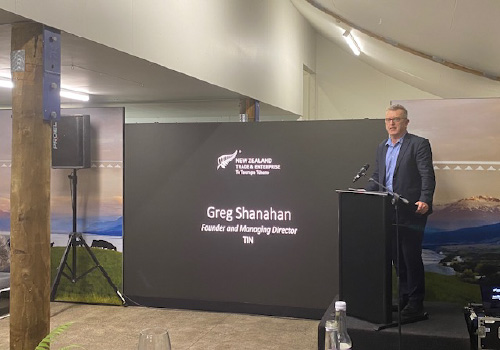 James Shaw, Minister for Climate Change and Green Party co-leader; Sir William Gallagher, president and executive director of Gallagher; James Allen, President and Board Chair of Fieldays; Peter Nation, CEO of Fieldays; Ray Smith, Director-General of MPI; Kenneth Irons, Chair, AgriTechNZ; and Brendan O'Connell, CEO of AgriTechNZ.  
In launching the second annual NZ Agritech Insights Report, Greg Shanahan said it demonstrated evidence of a sector that was strengthening its foundations, scaling up its ambitions, pushing forward on innovation and inspiring fresh entrepreneurship across the country.  
The report provides a closer look into NZ's agricultural technology sector based on data from TIN's 2020 survey results, including size and significance, key export markets, investment challenges and opportunities, along with a comprehensive directory of over 110 early stage Agritech companies currently developing their own IP in New Zealand.  Eight of these are profiled in the report, including FTEK, OXIN, Cropsy, WayBeyond, Ecogas, Hot Lime Labs, RoboticsPlus and UBCO. 
Automation had helped put these exciting companies on a growth trajectory, Greg said. 
The report showed that capital investment in the Agritech sector had more than doubled last year, with a significant increase in funding coming from outside New Zealand. 
Venture capital investment in New Zealand companies across all tech sectors increased to $127m in 2020, from $112m in 2019, while angel investment increased to $160m from $108 over the same period. 
Historically, Agritech has been one of the largest and most successful market sectors for the TIN200, New Zealand's 200 largest technology exporters.  Two of the sector's largest companies, Gallagher and LIC, contribute 40% of the total revenue for the TIN200 Agritech companies.
"I do genuinely believe that we can absolutely be the best in the world in what we do, and we should always strive to be the best.  Mediocrity has no place in this country"Hon. Stuart Nash, Minister for Economic and Regional Development and Minister of Forestry
Twenty-two – or 11% -- of TIN200 companies are Agritech firms, and together they generated $1.4B revenue last year; 10.8% of the total TIN200 revenue. 
The sector employs nearly 5,000 people globally with nearly 75% of those in New Zealand. 
The NZ Agritech Insights Report is sponsored by New Zealand Trade & Enterprise (NZTE), Ministry of Business, Innovation and Employment (MBIE), Callaghan Innovation, Central Economic Development Agency (CEDA), Hamilton City Council, and James & Wells – with additional support from AgriTech NZ.   
For a summary press release of the key findings of the NZ Agritech Insights Report, see here.
Download a free copy of the NZ Agritech Insights Report here. 
---
Trend Analysis. Research Tool. Prospecting List.
Become an official member of TIN and receive your copy of the Report at no added cost, plus discounts on exclusive events, opportunities to increase your company's profile, and connect with industry & government leaders.