Investment surge set to propel NZ tech exports to record levels in 2019
Annual TIN 'Investor's Guide to the NZ Technology Sector' reinforces the compelling case for international investment in Kiwi tech innovations
AUCKLAND, May 22, 2019 – A surge in angel, venture capital and private equity investment in New Zealand technology companies – particularly from the US – is set to propel Kiwi tech export revenues to record levels in 2019, says a leading NZ tech sector researcher.
The prediction, made by Greg Shanahan, Managing Director of Technology Investment Network (TIN), is solidly backed up by data published today in the fourth annual Investor's Guide to the New Zealand Technology Sector, produced jointly by TIN and the Ministry of Business, Innovation and Employment (MBIE).
Officially launched in Auckland tonight at an event as part of Techweek 2019, the Guide showcases New Zealand's diverse range of high growth technology companies, innovation capabilities and supportive regulatory framework, and presents a compelling case for investment in New Zealand's technology sector.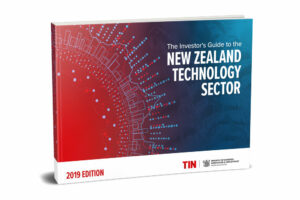 "The Investor's Guide is an extension of our annual core report, the TIN Report, which shows the tech export sector is growing faster than ever before," says Mr Shanahan.

"Angel investment in early stage technology companies reached a record level in 2018 at $99.1 million1; a 31% increase over the past year, and there was also significant capital investment in technology companies as part of the $1.1 billion2 in private equity and venture capital funds invested in New Zealand companies in 2018," he says.
Technology may currently be New Zealand's third largest export sector, but Mr Shanahan believes that with further sustained growth and support it has the potential to become New Zealand's leading source of offshore income.
"Revenue from New Zealand's top 200 tech companies grew 11% last year, with nearly $8 billion generated in offshore revenues3," he says.
"Considering too, that profitability grew three times faster than revenue in 2018, all current indicators suggest that there will continue to be huge interest in Kiwi tech companies in 2019 which will translate into significant investments driving record revenue growth."
According to the Guide, North America continues to be a highly attractive export market for the top 200 NZ tech export companies tracked by TIN, and returns the largest dollar growth of any offshore market. It highlights the NZ tech sector's diverse global investor base, with US investors particularly impressed by the innovations on offer in New Zealand.
One such investor is Mike Collett, Managing Partner at Promus Ventures – one of the main investors in Rocket Lab.
"We have been fortunate to get to know the Kiwi startup ecosystem over the last several years. Over that time, we have found a strong bedrock of entrepreneurship and integrity throughout the country, built on a deep history of innovation," says Mr Collett.
"We are excited to continue to invest our network and capital to work alongside talented New Zealand teams in building successful global companies. The future looks promising for New Zealand entrepreneurs," he says.
Copies of The Investor's Guide to the New Zealand Technology Sector are free and available in digital format via the TIN website, where hard copies may also be requested. The report can also be accessed through the MBIE website.
The 2019 TIN Report will be published in October.
– ENDS –
For more information and interview opportunities, please contact:
Kate Dobbin, Communications Advisor
Technology Investment Network
email: kdobbin@tinetwork.com
mobile: 021 522 103
FOOTNOTES:
PWC/Angel Association NZ (2019). This figure includes early stage technology companies only
Source: NZ Private Equity and VC Monitor, EY/NZVCA (May 2019)
Methodology
The guide, developed by TIN in association with MBIE, draws largely on public and private company data from the annual TIN Report (www.tin100.com) for the top 200 New Zealand technology firms (as determined by revenue). This data has been collected and aggregated by TIN over the past fourteen years.
Inclusion in the TIN top 200 requires technology firms to:
Originate in New Zealand; 2. Retain a meaningful presence in New Zealand; 3. Operate in the High-tech Manufacturing, ICT or Biotech sectors; 4. Have developed their own technology-based intellectual property; and, 5. Generate at least 10% of their revenues offshore.
About Technology Investment Network
Technology Investment Network (TIN) is a private company established in 1999 to facilitate the growth of the technology export sector in New Zealand. The company's goal is to contribute to the New Zealand economy by supporting the growth of, large, sustainable, New Zealand based, global technology businesses. For more information visit: www.tinetwork.com