TIN Member Spotlight: Datacom
23 November 2022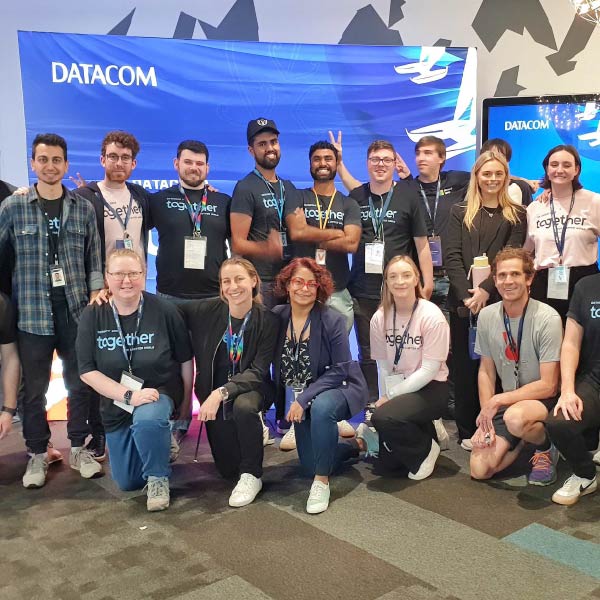 A strong focus on attracting and retaining talent is paying off, with Datacom sitting at #3 in the 2022 TIN200 rankings. Revenue growth of 2.8% ($40m) in FY2022 lifted Datacom's total revenue to $1.45B, behind F&P Appliances ($1.49B) and F&P Healthcare ($1.68B). Datacom's figures have been buttressed by a renewed push for business digital transformation in the wake of the pandemic. Alongside services and support, the company has been helping customers improve their resilience and achieve long-term business goals – particularly in the areas of cloud, data analytics, cybersecurity and SaaS.
We caught up with the Datacom team to discuss their focus this year and their plans ahead.
Talent development initiatives for existing and future employees in the face of increased pressures of finding and retaining talent have been, and continue to be, a key focus for Datacom. In your experience, what initiatives really work to attract and retain talent?

We see two critical factors in attracting and retaining talent: everyone should be able to identify a career pathway and opportunities to upskill and progress from their current role, and you have to build an inclusive culture where people feel like they belong – this is something that can require a bit more focus in hybrid working environments.
Internally we've established a number of programmes including Aspire, Strive, Transform and Connect Academy that provide a mix of continuous learning and training, mentoring and coaching, job shadowing and help identifying new career opportunities, and we've strengthened our onboarding processes to ensure people get a great start with us too. To support internal skills development programmes we've also introduced Skillsoft's Percipio platform, which is like Spotify for skills and training. Outside the organisation we've created the TalentX platform to help graduates, students and professionals meet like-minded people and discover opportunities to develop their careers in tech. We're partner with a number of tech talent initiatives such as the Digital Boost Alliance and provide mentoring and internships for students and graduates of TupuToa, AWS re/Start, the Microsoft Traineeship Program, Take2, and the tech career accelerator Mission Ready.
Datacom is making a significant investment in both building new pathways into tech careers for people outside the sector, and in growing the skills of our existing team of more than 6,800 people. As Australasia's largest homegrown tech company we see it as our responsibility to be a "net creator of talent", which means developing talent for the benefit of our company but also for the wider tech sector so we can help fuel growth for the organisations we work with and the communities we live in.
In your FY22 results announcement you mentioned that 'technology as a force for good' is a key focus area for the company. Can you provide some examples of how Datacom interprets and supports this concept in New Zealand but also internationally?
One of the critical foundations for tech being a force for good is that there is equality of access – that means both in terms of having the right people making decisions about tech, working in the sector, and equal access to the skills and tools. Globally, women are underrepresented in the tech sector, and in New Zealand, Māori represent around 4% of our tech industry workforce and Pasfika people account for less than 3%. One practical step that Datacom has committed to, as part of using tech as a force for good, is helping create pathways into the tech sector that attract a more diverse pool of talent. This has seen us build partnerships with organisations including MSD, TupuToa and UpTempo to create the right recruitment, onboarding, training and support programmes to attract and retain more women, Māori and Pasifika whānau. We are following a similar approach with other partner organisations in Australia to address issues around underrepresentation in the tech sector.
Another aspect of using technology as a force for good is collaborating with our customers to achieve great outcomes that make a positive difference to people's lives, and the country. There are a huge number of projects we can point to where our work is doing that – from data projects that have unlocked critical research capacity for organisations like the Cawthron Institute, to sustainable route and resource planning for private and public sector, to standing up vital contact centres for government agencies when natural disasters (or pandemics) hit here and in Australia, to smaller, but incredibly satisfying, creative projects such as bringing the interactive screens and technology to life at the new children's hospital in Wellington, Te Wao Nui. We also recently held our annual innovation competition Datacomp and the theme was "Together" and how we can problem-solve more effectively when organisations, industries, communities and countries work together. More than 270 people from Datacom spent three-days help build solutions at speed for a range of issues including helping young people navigate the mental health resources that are available to them, incentivising small business to take manageable steps to tackle climate change and helping inmates and their families simplify the process for purchasing approved basic hygiene and clothing items.
We all know how powerful and impactful tech can be, so we think it is critical that people and companies who working within the industry commit to ensuring that tech is a force for good. The World Economic Forum (WEF) has talked about the moral role of technologies and says: "Technologies have a clear moral dimension … a fundamental aspect that relates to values, ethics and norms" … "technologies reflect the interests, behaviours and desires of their creators, and shape how the people using them can realise their potential, identities, relationships and goals".
Data security continues to be a hot topic for you and your customers. You have joined the Government's Cyber Security Bureau Malware Free Networks (MFN) partnership and become an esteemed member of Microsoft's Information Security Alliance. What are your three top tips to any other IT services & support provider to make data security a core pillar of business best practice?
Earlier this year we commissioned a major piece of research into how New Zealand and Australian organisations are approaching the adoption of a Zero Trust security model. What we discovered was a real lack of organisation-wide communication around critical cybersecurity initiatives and issues. A couple of statistics from the research that helped show the communications gap was that 48% of cybersecurity decision-makers surveyed said "stakeholders struggled to understand the business value of adopting a Zero Trust approach" but then only 13% identified organisational communication as important in driving Zero Trust programmes.
So, the first and most important tip is to have a communications plan and share information around your security policies and practices. If you want people to help protect your data and information, then you should bring them on the journey. This goes hand-in-hand with creating a culture of cyber awareness in your organisation, from your exec leadership to your frontline staff.
Apart from that, our tip would be to practice "good cybersecurity hygiene" which means getting the basics right. Cyber-attacks are getting more sophisticated, but cybercriminals still routinely exploit well-known vulnerabilities to carry out their attacks. Practising good cybersecurity hygiene means patching your systems regularly, implementing multi-factor authentication (MFA), enforcing password best practice and ensuring your organisation carries out regular penetration testing of web-facing applications and platforms so you can identify and remedy vulnerabilities before they are used against you. It's also crucial that organisations get into the rhythm of backing up data on a regular basis and consider storing data in the cloud. If your organisation is targeted by a ransomware attack, a key decider as to how quickly you can get back on your feet will be having access to recently backed up data. All of the initiatives we are part of – from MFN to the Microsoft Information Security Alliance to other key security partnerships – are about ensuring we can better defend our customers' organisations, that we can enable companies to strengthen their own cybersecurity practices and policies, and make a real contribution to the future of New Zealand's cyber defences.
Your key focus for this financial year is still on people. You ran extensive research to examine mindsets, macrotrends and industry pressures to allow you to build empathetic working environments that respond to the way people work in a post pandemic world. Can you share some of your findings as to why mindsets matter and how organisations can look at creating more empathetic, responsive workplaces?
Over the past few years there has been a lot of focus on ensuring people can be effective and productive regardless of where they are working from. Datacom's work in this space is focused on creating environments for people that not only help with productivity but also support wellbeing and connectivity, and that are adaptive and flexible so they can evolve as people's needs change.
The work we've done proposes a different approach to the way we design workplaces and rather than focusing on a person's role and identifying a linear, narrow set of requirements, it places the focus on the mindsets we inhabit as we do different types of work and how to support that. So it moves away from a narrow role-based approach to designing working environments and tools, to an expansive way of looking at how people's needs change as they undertake different tasks and types of work – is the task at hand familiar or unfamiliar, simple or complex? Are you in discovery mode or trying to deliver something? Are you working on your own or with collaborators?
Virtually all of us go from thinking to delivering to collaborating to discovering, and back again, multiple times each day. This is just the nature of modern work. But we haven't accounted sufficiently for these necessary and frequent mode shifts and we could all end up paying the consequences. It is early days, but our trial spaces show it results in far more intuitive, responsive working environments.
Click here to learn more about Datacom.