Event Recap – TIN Member CEO Chat: Scaling for Success
21 September 2021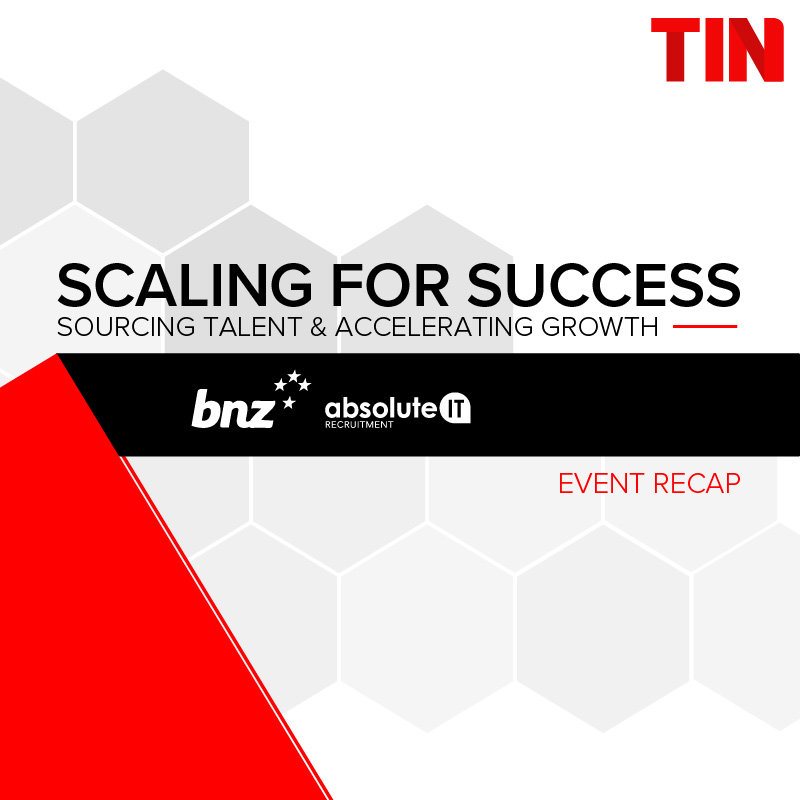 TIN Member CEO Chat: Scaling for success
Our first TINShed event for the year took a deep dive into the topic of scaling for success.  
As New Zealand continues to experience heightened investor interest with more money coming into the country, we have to ask ourselves are our tech companies ready to deal with this influx? Growing from pre-revenue to $10m in revenue is one thing, but how do you grow from $10m to $100m? And where is the talent with the relevant experience and skillsets going to come from to help New Zealand tech companies become truly global players? 
We were joined in this in-depth discussion by some of New Zealand's most experienced and accomplished tech leaders, including Marcus Driller of F&P Healthcare, Steve Newman of EROAD, Mike Jenkins of The Instillery, and supported by our sponsors; Charlie Mear of BNZ and Brian Bernard of Absolute IT. 
Extent of the talent challenge
"The talent shortage spans most of New Zealand and is across all areas, including product engineers, developers, product managers, cybersecurity – the entire technology platform," says Brian Bernard, Hamilton regional manager of IT recruitment firm, Absolute IT. 
"Short-term, the challenge is that borders are closed, but we've got to continue to attract talent pools.  If the shortage continues, we will need to look within New Zealand and grow more of the talent within this country." 
"A longer-term solution, as long as our borders remain closed, is to encourage the next generation to consider technology.  There are many more opportunities in tech.  We're seeing teachers, pilots and tourism operators who are changing career paths and becoming business analysts and products managers."   
Absolute IT works with tertiary institutions around tech qualifications and visits local schools to encourage the next generation to consider technology as a career. 
"I would encourage any school leaver to study a tech-related course.  There are a wealth of opportunities opening up, and there'll always be a demand for skilled workers," adds Bernard. 
Factors driving success 
In a year punctuated by the global COVID-19 pandemic, F&P Healthcare reported 56% growth in operating revenue, and an 82% jump in net profit to $524m. Marcus Driller, vice president of corporate at F&P Healthcare, says a number of factors have contributed to this success. 
"The first thing is preparation. We have always carried additional excess capacity to ensure we can continue to supply in the event of a pandemic – we had experience of that during SARS.  
"The second thing is that we realised pretty early on that COVID-19 would spread quickly.  We had massive demand for our devices in hospitals in China.  We restructured and reorganised our organisation by setting it up into nine crisis management work streams and worked out what we needed to achieve.  Did our workforce feel safe to come on site? How do we allocate demand?  How do we ensure that those patients who need to be treated receive the products they need?  
"It was a big pivot for our organisation – each of the work streams had a really clear purpose – all based around continuing to manufacture and supply respiratory products.  We have a strong culture of trust built over 50 years – individuals and teams came together and did what was necessary to make things happen. 
"In addition, agencies such as NZTE and MFAT made a massive effort to help keep raw materials coming into us. 
"We took on more than 1,500 people around the world over the course of last year.  The work streams looked at how we could get people in – and we worked closely with temp agencies to do that.  We were sometimes bringing on 60-80 people per week.
"We wouldn't be where we are today without some really deep and strategic partnerships,"Mike Jenkins, Founder and CEO, The Instillery
"People had to jump into areas that were very different to their day job.  I think it was our great culture allowed that flexibility." 
The Instillery has enjoyed phenomenal growth in the past eight years, and Founder and CEO Mike Jenkins attributes this in part to the strategic partnerships they've formed through alliances and acquisitions. 
"We wouldn't be where we are today without some really deep and strategic partnerships," he says, highlighting the likes of Microsoft, Amazon Web Services, Zscaler and Zetaris that form part of The Instillery's stable. 
"Our mission is to bring the world's best and brightest tech to Aotearoa and put it in the hands of Kiwi business leaders at their place and their pace. 
"As a result, we're always looking over the horizon and seeking out organisations, both globally and locally, that share our vision." 
Mike reinforced that the addressable market across Cloud, Data, Security and Privacy massively outstrips the New Zealand market ability to deliver right now.  
"The Instillery's ability to grow is not limited by the market potential, it's only limited by our ability to continue to innovate, invest and execute with precision," he said. 
"We've learnt a lot through the acquisitions we've made over the past few years. It's an exciting journey but you've got to be bold and brave. Our recent acquisition of New Zealand's leading data privacy consulting house TwoBlackLabs is a great example of this. 
"When we look at what's going on in the talent space in digital right now, it's an arms race. Our strategy is to stay focused on our own vibe and what we can control – that is, building an epic culture and giving our team the opportunity to work on the most impactful digital transformation programmes in Aotearoa, while also supporting the critical digital infrastructure that supports New Zealand industry.  
"Our commitment to do this is playing a small part in the great Kiwi digital revolution. 
"The growth of tech within our Māori and Pacific communities is the single biggest opportunity for tech right now but it'll take a real collective effort from both public and private working in unison to realise the true potential," he said. 
The rationale behind acquisitions
Steven Newman has started two iconic tech companies, Navman and EROAD, and was instrumental in the recent $188m acquisition of Auckland-based telematics firm, Coretex.  The deal is currently before the Commerce Commission, and Steven explains why the acquisition was attractive to them. 
"We provide our telematic services to 90,000 vehicles on New Zealand roads (130,000 globally) covering a broad spectrum of verticals and industries," says Steven.  "The transportation industry is currently going through the digital transformation that other sectors have experienced years ago.  Speed is everything." 
"We've done a fair amount of research into organic and inorganic growth. In Coretex we have a highly desirable situation.  When we bring the two together it's highly complementary and accelerates the business by about two years – at the moment revenue is around $90m, but combined it will be upwards of $140m. 
"It's a significant acquisition for us with Coretex having more than 160 people operating in the three markets we're currently in." 
Being publicly listed gave EROAD access to capital to fund the acquisition. 
"We listed on the NZX in 2014 and in September last year also went on to ASX in order to increase liquidity and get access to capital. Given the size of the acquisition we also went back to the market to raise further funds.  
"Being publicly listed meant we could get the capital we needed, and the transactions were carefully thought through.  It resulted in a very balanced and collegial negotiation of the Sale & Purchase Agreement with Coretex." 
And is there a future for EROAD as an iconic billion-dollar company? 
"That's the plan," says Steven. "If we deliver on what the acquisition should do, we should get there.  We plan to become a programmatic acquirer. COVID-19 will cause consolidation and we want to become an exemplar in how we do acquisitions and how they support a high level of organic growth." 
Character, cashflow and collateral
BNZ business development manager Charlie Mear looks after the bank's technology industries portfolio, and says tech is becoming an increasingly important part of business banking.  It's one of six verticals BNZ has identified as industries they want to really focus on growing.   
"Our proposition is based on capital, connections and capability," she says.  "In terms of the bank capital side of things, we're pure debt financing.   
"To give a sense of how early bank financing is available, we generally start to finance tech companies around the $1m annual recurring revenue mark.  The sweet spot is around that $5m revenues' plus for a number of reasons.  
"From a debt financing perspective, in the earlier stages, it's easier for us to put working capital into businesses (e.g. overdraft, trade finance) – they are on-demand facilities and can be scaled up as a business's revenue is scaled up.  As a company scales up and generates more operating profitability, we can look at putting term debt facilities in. 
"We're seeing a fair amount of activity, which we are financing, where tech companies are acquiring to expand their tech offering, establish a presence in a new market and, acquihires --- where businesses acquire in order to get access to the staff."Charlie Mear, Business Development Manager - Tech and Health, BNZ
"In simplified terms, what we look at when assessing companies is character, cashflow and collateral. It's vital that we back the people who are in and surrounding the business. We invest in the people as much as we invest in a business – trust, transparency and capability are important.  
"Cashflow is always our first way out – it's what we're relying on to get our money back with interest.  The strength of the revenue is critical for us, and understanding the customer value proposition."  
"Collateral is what we consider to be our second way out. The back-up. Historically banks have focussed on tangible security, but most tech company value is not on a balance sheet.  We're becoming more sophisticated in how we understand off balance sheet intangible assets. We seek to ensure a business fully understands its intangible asset base and has legal or practical measures in place to protect those assets. 
"The talent challenge is something we're seeing a lot in the tech industry – and all industries in New Zealand," says Charlie. "It's getting increasingly expensive to grow both organically through taking on talent (if you can find it) and inorganically through acquisitions.   
"We're seeing a fair amount of activity, which we are financing, where tech companies are acquiring to expand their tech offering, establish a presence in a new market and, acquihires --- where businesses acquire in order to get access to the staff." 
Establishing a strong company culture
"We get asked a lot by investors what our culture is," says F&P Healthcare's Marcus Driller.  "It goes back to the old Fisher & Paykel Industries days – it's part of who we are.  We have quite a flat hierarchy with an innovative, open environment.  All 2,500 of our NZ-based employees came together to celebrate our 50th anniversary at the end of 2019 and it was the most amazing cultural celebration for all our families." 
At The Instillery, Mike Jenkins says they're focused on creating a psychologically safe environment where young people can be themselves.  
"We have an inclusive and diverse company culture – we can take the blinkers off and can challenge ourselves professionally. We want our staff to have the confidence to know that they're empowered. 
"We really default to our courageous culture – we'll make mistakes, but we'll make them together," says Mike. 
"It's all about people and culture in any high growth business," says EROAD's Steve Newman.   
"You've got to keep addressing your talent base. We're a purpose-led organisation – we're all about safer and more sustainable roads.  We're very strong on values and career development paths. 
"Last year during COVID-19 we were very clear to staff that we wouldn't be laying anyone off -- we said we'll take the opportunity to get focused on the key things so we come through this much stronger.  
"With the younger generation it's all about the why and how." 
The impact of the talent shortage on start-ups is felt very keenly by EROAD's Steven Newman. 
"I'm very concerned about where we are at the moment in terms of hiring great talent – typically 35% of new EROADers would come from overseas and that's now zero.   
"It concerns me that our inability to hire staff has been at the expense of start-ups.  We need to continue our growth but in doing so we are impacting smaller companies much harder by acquiring the talent those start-ups would otherwise access." 
"I believe the tech industry is at an inflection point and how it gets supported over the next 12 months in terms of letting in new talent and developing new staff is key, especially for high-growth companies." 
Marcus Driller concurs that it's a challenging situation.   
"We need a more sustainable way of filling roles in the tech sector," he says. "New Zealand has been the top of the list in terms of businesses ability to operate but the experience of the past year has also shown how reliant we are on overseas workers to fill some of those roles."  
"The challenge comes down to people and fundamentally you need the right people in the right places if you want to scale," says F&P Healthcare's Marcus Driller.  "Ultimately it's how you embed your culture in your overseas operations – you've got to have an understanding of who the right people are."  
EROAD's Steve Newman says how each market operates is totally different to how it is back home.  
"If we're expanding offshore, we can really create problems by trying to carry the New Zealand paradigm across. It's a critical stage when you start going into offshore markets and I believe there should be a lot more talk around building local sales and marketing capability, especially in other markets." 
Marcus Driller agrees. "We have people in 45 markets now, and having locals on the ground who understand the intricacies of each market is very important.  While we are very proud of New Zealand and love being headquartered here, fundamentally, our overseas customers don't really care that we're based in New Zealand – having someone local on hand who can help them when they need it is key." 
---