Tapping into New Zealand's Innovation Ecosystem – TINShed Recap
8 July 2019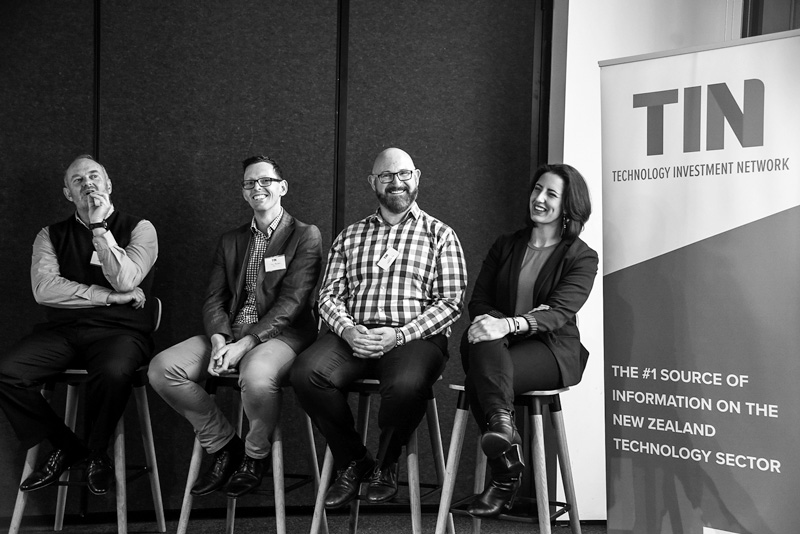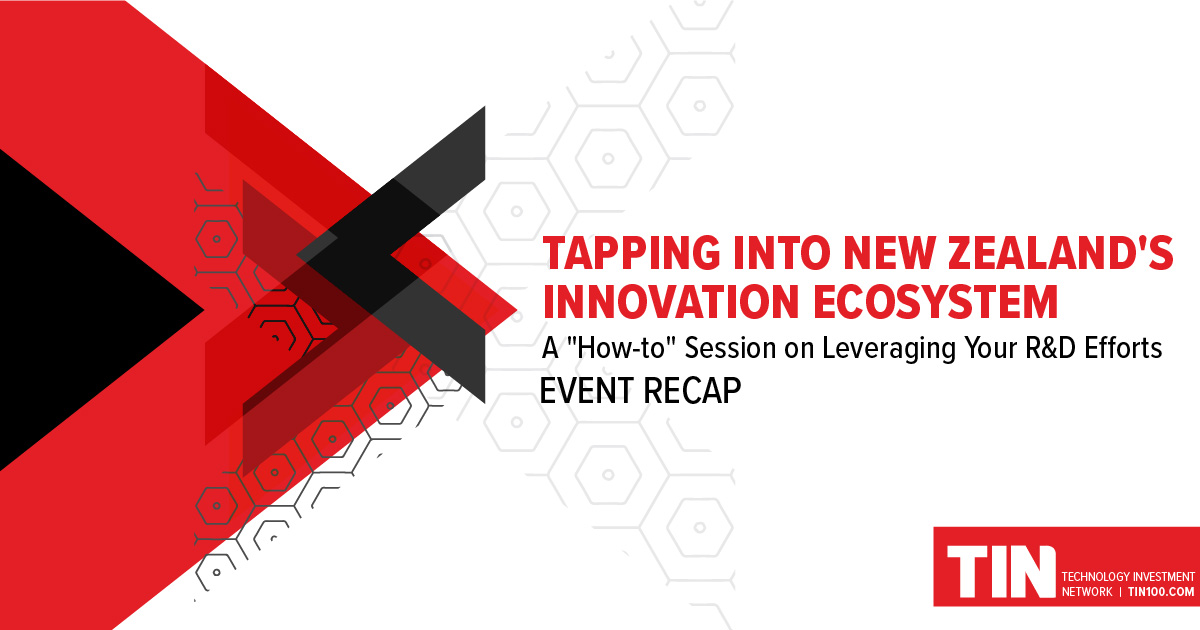 ---
TINShed Wrap-Up – Lessons on tapping into NZ's Innovation Ecosystem
Last week, TIN held its second TINShed event for the year at Generator in Wynyard Quarter, Auckland, titled 'Tapping into New Zealand's Innovation Ecosystem: A 'How-To' Session on Leveraging Your R&D Efforts.
We were honoured to be joined by a panel of four leading authorities on tech innovation in New Zealand who shared their deep knowledge and considered perspectives for our gathered audience of business professionals and entrepreneurs. Panellists included Imche Fourie (General Manager of LevelTwo), Andrew Clews (Business Innovation Adviser, Callaghan), Dr Tim Benbow (Partner, R&D Incentives at EY) and Ceri Wells (Partner at James & Wells, intellectual property attorneys).
Our event MC, Greg Shanahan (Managing Director of TIN) set the scene for the discussion, noting that while R&D is an essential investment for companies wanting to improve what they're doing, New Zealand investment in R&D lags behind many of our counterparts on the world stage. It's a key reason why the NZ Government has committed to increasing New Zealand's expenditure on R&D to 2% of GDP by 2027.
So, how important is R&D?  Citing data from TIN's 2018 survey, Greg noted that the Rising Star companies in the TIN200 – that is, the 25 companies that have exponential growth higher than 30% over a compound 3 year period – had 50% more R&D as a percentage of total revenue than companies that didn't exhibit that kind of growth. Clearly, R&D is a common focal point for tech companies that are growing.
Greg's questions to the panel led directly from this assertion, asking why is R&D so important? And how do tech startups and small companies leverage the ecosystem to be able to deliver that differential?
Imche Fourie spoke first from her experience leading LevelTwo, New Zealand's premier Deeptech incubator. At LevelTwo, the young resident companies have access to shared equipment and resources, such as a 3D printing hub, which they would not usually have cash to invest in themselves. More importantly however, is being surrounded by 14 other founders who are each on the same R&D journey. She says the learnings that they can get from one another while working in such close proximity are incredibly valuable.
Greg then posed a question to Andrew Clews of Callaghan Innovation, as to the key differences between the NZ innovation ecosystem and that of the US? In Clews' view, there's no shortage of great ideas and smart people in New Zealand, but unlike US companies, the key challenge for Kiwi businesses is to do more than simply talk about collaboration. Collaboration allows companies to get things done with pace and cadence, which is where NZ still falls behind.
Greg then turned to Dr Tim Benbow for his advice for companies looking to invest more in R&D through the government tax credit programmes. Tim's advice was clear; start with getting to know your business first and driving it forward, rather than simply chasing every bit of government funding. Once you know where you want your business to go commercially, it's then much easier to determine which are the best funding opportunities to pursue. That's where it's important to not think one-dimensionally about R&D, but rather look into opportunities for collaboration.
Finally, Greg asked Ceri Wells of James & Wells for his perspective on the secret to leveraging R&D investment into commercial success? In Ceri's view, the best thing businesses can do is keep focused, making sure you have a business plan and that your IP strategy matches that business plan, your cash flow and your ability. From there, protecting their IP is crucial so they can continue to own and control it. In short, Kiwi tech companies have to get smarter and realise that our ideas are valuable, so they should be protected.
A lively Q+A sessions and discussion followed, with further contributions from the panellists and other notable attendees before the conversation was brought to a close by Greg Shanahan who noted that the many challenges of R&D are solvable, demonstrated by the economic impact of the TIN200 companies that have gone global. While there are certainly opportunities to be gained from accessing government support for R&D, Kiwi tech companies need to be aspirational and collaborate to maximise opportunities and achieve scale.
"In my view, it's critically important for New Zealand to use the growth of its tech companies to address entrenched economic inequality in the country, so there's a lot to be said for having a coordinated strategy." (Greg Shanahan) 
If the lesson of the event could be condensed to one word, it's collaboration. It's exactly what being a part of the Technology Investment Network is all about. We look forward to sharing more events like this one with the TIN Community in the months to come as we look forward to sharing the findings of the 2019 survey in October.
Brendan Boughen, Operations Manager, TIN

See the Photos