Travels with TIN 2019. REGIONAL TIN REPORT LAUNCH – RECAP
25 November 2019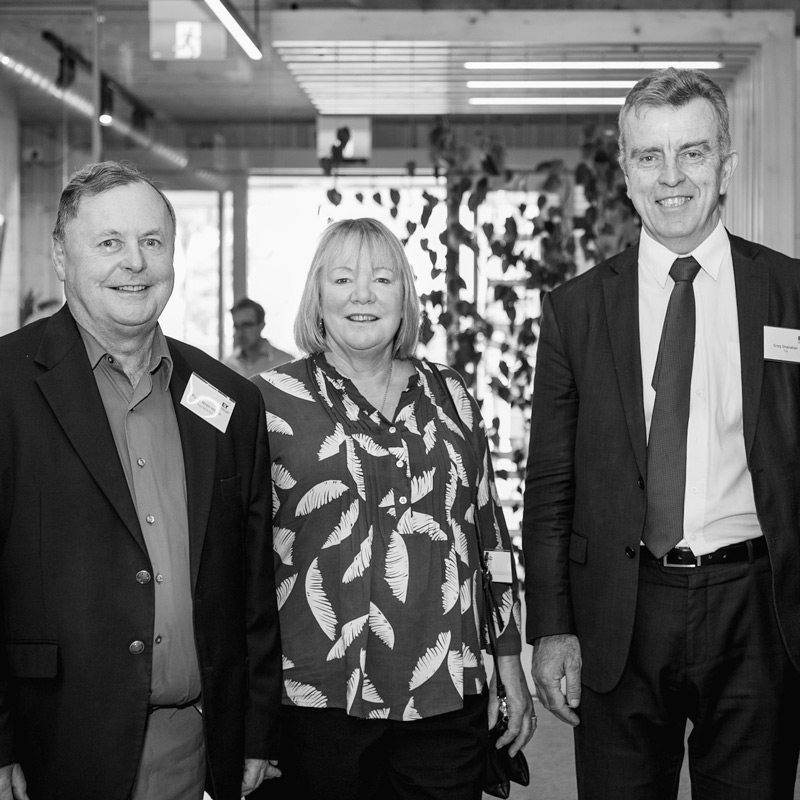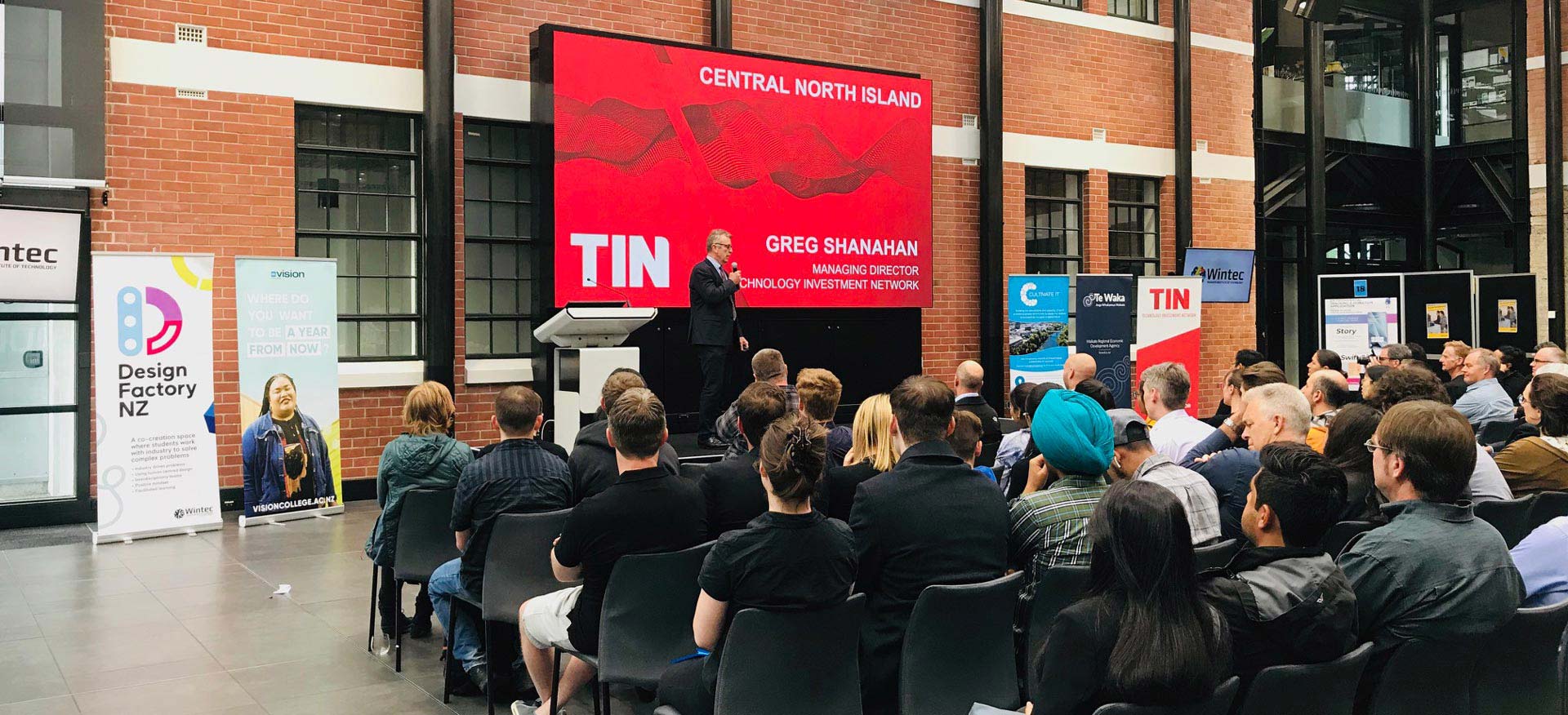 Travels with TIN 2019
As we continue to update you on TIN's travels as part of our 2019 TIN Report roadshow, we'd like to acknowledge the ongoing support of our growing stable of sponsors and the role they've played in helping take our message around the country, including New Zealand Trade and Enterprise, Absolute IT, BNZ, EY, James & Wells and NZX.
Next stop, Dunedin
Back down to the wonderful South with a fleeting visit to Dunedin on a crisp Tuesday evening.  TIN was honoured to be one of the keynote speakers at the Celebration Evening for the Challenger Series, Startup Dunedin's flagship startup incubation programme.  Startup Dunedin facilitates, connects and coordinates the growth of the Dunedin startup ecosystem and testament to that are the 150 founders they supported through their programmes this year.
Startup Dunedin welcomed a close community of founders, investors, advisors and tech companies to its event, and there was a real and very exciting sense of the growth generated by the local startup scene, and how fast that growth has been.
As part of his presentation on the key findings from this year's TIN Report, Greg Shanahan highlighted the increasing contribution that the Otago and Southland region makes to the New Zealand tech sector.  The region was the second fastest-growing region this year, with 16.2% revenue growth and total revenue of $0.5B.  There are multiple avenues driving this growth, but it remains a high-tech manufacturing powerhouse with 30.2% revenue growth in that sector.  Scott Technology – ranked 4th on the EY Ten Companies to Watch list – along with ADInstruments and Escea, generated 53.8% of the region's TIN200 revenue.
Dunedin-based online learning platform Education Perfect debuted on TIN's Absolute IT Supreme Scale-up list this year with impressive growth of 46.8%.
The Otago/Southland region boasts nine companies in the TIN200, with its 3-year CAGR outpacing its 5-year CAGR.  The region employs nearly 3,700 employees globally, making up just over 7% of TIN200 employees.
TIN company and Challenger Series winner Winely -- one of this year's NZX Most Promising Early Stage Companies -- also featured in the speaker line-up at the event, along with Next Farm and KaffeLogic.
[ess_grid alias="2019-TIN-Report-Sales"]
---
Next stop, Tauranga
On to the sunny Bay of Plenty and a Friday evening event hosted at the co-working space occupied by one of our longest-running sponsors, EY.  Rachael Gemming, Associate Director, brought together a lively and engaging group of advisors, investors, founders, start-ups and TIN companies. Tauranga is classified within the 'Central North Island' region in the TIN Report, and tech is regarded as a highly efficient sector in the region.  It recorded 9.6% revenue growth over the past year, with growth coming from all sectors.  The Central North Island region boasts 11 companies in the TIN200, with NZ Pharmaceuticals, Lonza, Future Products Group and Pultron Composites contributing just over 67% to regional revenue.
The region's tech companies employ around 860 employees globally (1.7% of the TIN200) and have recorded a 10.3% growth in employees from last year.  The region has the highest annual revenue per employee of $339,329 and an annual wage/salary of $82,590 – higher than the TIN200 average.
Local high-tech manufacturing/agritech company Bluelab made its debut on the Absolute IT Supreme Scale-ups list this year with an increase in revenue of $5.5m to $19.4m.  The company provides monitoring and control systems for domestic and commercial plant growers, and this year Bluelab's 39.6% growth has been fueled by their increased production capabilities and sales within the US.
We had a great night celebrating the local successes and connecting with promising tech start-ups - we've certainly got our eye on some future TIN contenders. Thanks EY Tauranga, we'll be back!
Trend Analysis. Research Tool. Prospecting List.
Become an official member of TIN and receive your copy of the Report at no added cost, plus discounts on exclusive events, opportunities to increase your company's profile, and connect with industry & government leaders.
Next stop, the Waikato
A tour of New Zealand wouldn't be complete without a visit to the mighty Tron, and TIN had a taste of true Hamilton hospitality early last week courtesy of Wintec at the IoT Waikato Future Tech Meetup.
Greg shared the stage with Graeme Muller, CEO of NZTech; Thomas Coats, Chair at CultivateIT; Michael Bassett-Foss CEO at Te Waka; and Jason Catchpole and David Tse who talked about digital humans, privacy and developing the world's first digital human barista; a collaboration between UneeQ, Jade Software and one of TIN's NZX Early Stage Companies, Ambit.
Wintec's Internet of Things event is aimed at the wider tech ecosystem and attracted more than 130 tech entrepreneurs, investors, supporters and students who came together to celebrate tech talent in the Waikato.
CultivateIT launched the Digital Waikato 2025 strategy at the event, presenting an approach focused around collaboration to drive digital uptake and empower the region and its people to prosper today and into the future.
TIN has identified Hamilton (and the wider Waikato region) as an agritech powerhouse, with the region's agritech companies making up more than 93% of the region's revenue. It also accounts for more than 62% of the TIN200 agritech revenue.  With nine companies in this year's TIN200, Waikato registered the largest regional growth rate in 2018, and this year it has sustained those growth levels again.  Gallagher Group, ranked No.5 in the TIN200, came in at number 10 on the EY Ten Companies to Watch list this year, with revenue growth of $21m and total revenue of $271m. The Gallagher Group is one of the oldest companies the TIN Report, having been formed in 1938.
We don't want our TIN travels to stop there! If you think you'd benefit from a TIN presentation at your event, don't hesitate to reach out to us via greg.shanahan@tinetwork.com
For a more detailed breakdown of the regional stats from this year's TIN Report, please see here.