TIN Member Spotlight: Trimax Mowing Systems
14 June 2022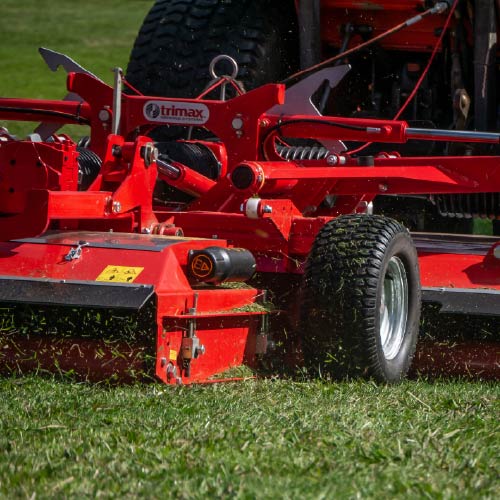 Trimax Mowing Systems manufactures professional turf maintenance equipment, designing, developing, and building high quality roller mowers since 1981. The company climbed an impressive 59 places in the 2021 TIN Report versus the 2020 TIN Report, entering the TIN100 at rank 64.
Michael Sievwright, CEO of Trimax, says that the best business decision made in 2021 was continuing investment in the global presence and critical innovation projects through an uncertain period.
We caught up with Michael and the Trimax team to find out more about their success.
Trimax had a great 2021 and gained an impressive 59 places in the TIN200 ranking according to last year's TIN Report. What are your top three business priorities for this year?
Re-engage with our markets, customers, and global team, face-to-face where possible, after the isolating impact of Covid over the last several years. Our relationships with our customers drive innovation across several areas of our business, and like many other global companies, we are eager to reconnect in meaningful and productive ways, especially with those we haven't been able to visit for a while.
Increase customer touchpoints through our digital platforms and service strategy. As a premium product, we intend to grow and expand our work in delivering value to our customers throughout their buying and operational cycles.
Grow our capacity to serve our growing local markets through facility improvements, adaptations to the changing global supply environment, and the utilisation of advanced manufacturing technologies to ensure top efficacy and quality throughout our production processes.
Trimax turned 40 in 2021 – congratulations on an impressive company history! "Investment in our customer relationships has supported the growth of our business" CEO Michael Sievwright is quoted as saying so how have your customer relationships enabled the growth of the business?
When it comes to our customers, Trimax has always taken a partnership approach. Not only do our customers play a critical role in our product testing and development, but we also try to continuously incorporate customer feedback into our solutions. From our perspective, the relationship between Trimax and our customers is a critical business relationship which provides significant value to both parties involved – a perspective confirmed by significant repeat business and long-term, highly engaged customers.
As we've grown, we have also recognised the important impact of establishing manufacturing facilities and local staff in each of our major markets. We've found that our customers greatly value the availability of a local team to support their equipment with advice, parts, and service.
Innovation is part of your company's DNA, adapting to different markets and specific needs. As a global operation, how are you balancing the customers' wish for tailor-made solutions with the need to scale successfully?
Each of our markets have their own unique challenges, but across the board we have recognised some key similarities which provide us with a focus for our development. A core product technology stack with various optioning to suit different market requirements has allowed us to easily mass produce while still allowing for specific tailoring to take place for each mowing environment.
What are the top trends in mowing systems and how does Trimax respond to them?
The trends we see in our industry are very universal: there's a desire for increased efficiency to complete the job. For us, this means that reducing downtime, addressing labour shortages, and implementing sustainability practices are all important.
These trends align with one of our main value offerings, our equipment's low total cost of ownership, so our response to the trends has not required a drastic change in our focus as a company. We can continue to work towards our goals of increasing efficiency and ease of use, reducing maintenance, and growing our investment in new technology to meet these needs.
With successful operations across NZ, Australia, the UK and the US, what keeps you headquartered in NZ?

New Zealand provides a great "backyard" for development, with a customer base that's willing to test and try new innovations and provide honest and helpful feedback. The weather conditions in New Zealand are also good for year-round testing, since grass grows here all 12 months of the year.
New Zealand also attracts a diverse range of skills and experience which enriches the backgrounds and perspectives on our team. We have a group of people in our business that think quite differently to some of our competitors, which leads us to find unique solutions.
Of course, the Trimax teams in each of our other markets are vital in supporting our New Zealand capability and maintaining our connection to and understanding of their market's unique development needs. The increased use of technology and remote connectivity has bolstered this connection and decreased the impact of the physical distance between our operational locations.
Click
here
to learn more about Trimax Mowing Systems.