2018 TIN Report Sneak Preview
28 September 2018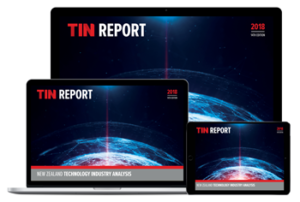 Record Profitability Growth for TIN200 Companies is Helping Secure a Long-Term Future for New Zealand's Tech Sector
Rebecca Smith, Nasdaq Asia's head of listings and capital markets, will be headline speaker at launch event on 24 October
Auckland, 28 September 2018 – New Zealand's top 200 technology companies have achieved 38% growth in profitability* in the past year, according to a preview of this year's Technology Investment Network (TIN) Report which will launch later next month.
This is the fastest rise in profitability since the annual TIN Report first began in 2005, marking an important milestone as many high-growth companies begin to fund expansion organically and achieve economies of scale. Investors have responded positively to this news, with stock prices for the TIN200's largest ten listed companies by market capitalisation surging 57.3% in the past year.
"The sector is entering a new chapter in New Zealand's technology story", said Greg Shanahan, managing director of TIN. "The rising profitability reflects the wealth of experience, capital and scale the sector has built up; creating the foundations for widespread and stable growth".
"It's important to stress also that this overall rise in profitability for the TIN200 has not been at the expense of revenue growth this year, but rather has been driven by these tech businesses now being more self-sustaining," Mr. Shanahan added.
This year's TIN Report features a record 19 companies making a debut appearance on the "TIN200" – the ranking of New Zealand's top 200 technology companies according to revenue. The number of new names joining the TIN200 list highlights the rising number of globally-competitive companies that New Zealand's technology sector is now producing.
"The advantage with technology as an industry is that, unlike dairy and tourism, it's not stymied by natural resource and infrastructure constraints, other than access to talent and capital," added Mr. Shanahan.
The fourteenth annual TIN Report will be launched at a gala awards event to be held at the Cordis Hotel in Auckland on 24 October, featuring David Downs, General Manager Projects, New Zealand Trade and Enterprise as MC and headline speakers Rebecca Smith, head of listings and capital markets at Nasdaq APAC (ex China); and Doug Hastie, CEO of Christchurch-based Syft Technologies. Similar events will be staged in Wellington on 29 October and Christchurch on 30 October.
The TIN Report monitors the performance of New Zealand's 200 (TIN100 and Next100) largest technology exporters in the areas of Information and Communications Technology (ICT), High-tech Manufacturing and Biotechnology. It is sponsored by New Zealand Trade and Enterprise (NZTE), Spark, EY, Absolute IT, James & Wells and Simmonds Stewart.
Tickets to the Auckland event on 24 October are available here. Copies of the 2018 TIN Report can be pre-ordered from https://tin100.com/shop/
* Profit is measured as EBITDA unless otherwise stated.
---
Notes to Editors
For more information please contact:
Media Enquiries: Kate Dobbin Mob. +64 21 522 103
kate.dobbin@tinetwork.com
Greg Shanahan, Managing Director, Technology Investment Network
Ph. +64 9 445 0362 Mob. +64 27 435 6045
greg.shanahan@tinetwork.com
About the TIN Report
The TIN Report is produced by Technology Investment Network with sponsorship from NZTE (New Zealand Trade and Enterprise), Spark, EY, Absolute IT, James & Wells and Simmonds Stewart. The TIN Report is a critical reference for benchmarking the performance of New Zealand's 200 largest globally focused technology companies. The size of the tech industry has grown significantly since 2005 and in recognition of this,TIN sent surveys to approximately 700 companies in 2018.
About Technology Investment Network
Technology Investment Network (TIN) is a private company established in 1999 to facilitate the growth of the technology export sector in New Zealand. The company's goal is to contribute to the New Zealand economy by supporting the growth of, large, sustainable, New Zealand based, global technology businesses. For more information visit www.tin100.com