Event Recap – TIN Member CEO Chat: Raising Capital
27 April 2021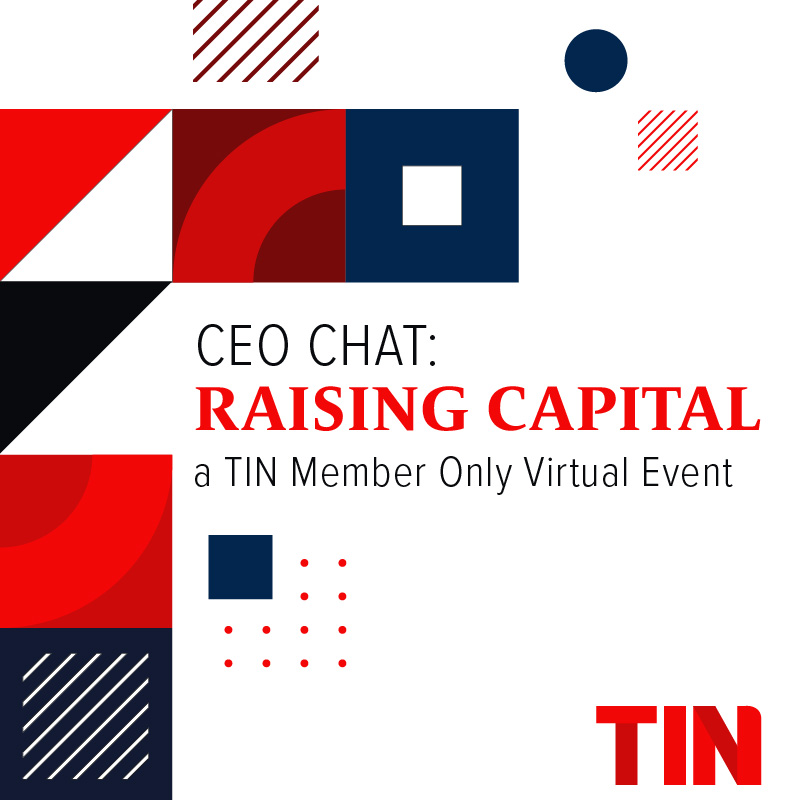 TIN Member CEO Chat: Raising Capital
TIN's CEO Chat series is designed to draw reflections from our TIN member company CEOs on best practice ideas and actions for tech sector success. Our first CEO Chat of the year focused on 'Raising Capital' in anticipation of TIN's forthcoming Investor's Guide to the NZ Tech Sector, which reflects the current state of the technology investment ecosystem, due for release at the end of May.
"In 2019, we noticed a significant increase in deal size," said Greg Shanahan, managing director of TIN, who hosted the virtual discussion. "Moving through to 2021 there's no previous time that I can remember where local fund managers have been so successful in raising large funds for investment private tech companies."
"What's more, the quantum of deals has changed. Rocket Lab's US$4B pre-listing SPAC merger, the US$3B TSG, Clearant merger, the US$1B sale of Seequent to Bentley Systems and the US$350m sale of Vend to Lightspeed. We've gone from talking about millions to tens of millions to billions.
"What's more, the quantum of deals has changed. Rocket Lab's US$4B pre-listing SPAC merger, the US$3B TSG, Clearant merger, the US$1B sale of Seequent to Bentley Systems and the US$350m sale of Vend to Lightspeed. We've gone from talking about millions to tens of millions to billions."Greg Shanahan - Managing Director, TIN
"In the public markets, Fisher & Paykel Healthcare is rocking ahead in terms of its valuation; and we've also seen similar success for companies such as Pacific Edge, Aroa Biosurgery and Plexure."
Greg then put the question to our attending CEOs: How are they finding the experience of raising capital in the current marketplace?
"We've invested approximately $200m of shareholder funds so far to gain significant commercial traction. We have very supportive long term investors that we need to recognise in our success," said Pacific Edge CEO Dave Darling, who's stepping down from his role next year.
The Dunedin-based cancer diagnostics company is publicly-listed and came out of last year's COVID-19 disruption in good shape. In the second half of 2020 its share price grew tenfold and Pacific Edge entered the FTSE NZX50 small market cap index in September 2020, ranked 38. Today the company's market capitalisation is more than $800 million.
"During last year's lockdown, we concluded two very significant commercial milestones that resulted in an uptick in our revenue. Cxbladder was formally issued coverage by major US healthcare insurer, Centers for Medicare and Medicaid Services (CMS) which almost doubled our revenue overnight.
"We also announced conclusion of a commercial relationship with Kaiser Permanente, an integrated healthcare provider with more than 12.8 million lives under coverage. Kaiser Permanente is widely recognised as the most significant validation organisation in the US.
"Commercial recognition by these two major healthcare enterprises gave us a huge lift and empowers other healthcare providers to adopt. Most recently, the company announced coverage by United Healthcare's Medicare Advantage Programme."
Dave believes that there's a broader interest in tech companies among today's investors.
"You can feel a real sense of it building, especially with the increase in the number of transactions coming from online investment platforms such as Sharesies. This is a very mobile group of people who are bypassing traditional investment systems and are becoming a real force in investment. They are a very important stakeholder group for us."
Auckland-based Blair Harrison, senior manager of listings and issuer services at ASX, says there's been a noticeable shift in interest in listed tech stocks in the past 18 months from Australasia, North America and Asia, noting that 2020 was a record year for IPOs and many of those who listed were technology companies.
"We've also seen a shift in the mindset and funding of companies seen to be either COVID-immune or positive in responding to the challenges of COVID," he said.
"There's been a huge amount of capital raised in public markets. Roughly four times the amount of capital was raised by the tech community in 2020 than in 2019, which is indicative of the ability of companies to access capital. It's also indicative of investors' appetite for companies that can exist in a certain environment – these include companies that can be run remotely, or are immune to the effects of the pandemic, or have been positively affected by it."
This is a sea-change that is likely to outlast COVID-19, as the world looks to New Zealand as a country that has dealt with the global pandemic appropriately. Added to that, the whole process of raising capital in public markets changed and pivoted as borders closed. Investor roadshows were carried out; meetings were held, CEOs managed their companies, all without anyone having to leave their homes.
"The key piece of advice I'd give companies wanting to make themselves more accessible to investors is simply to be bold."Blair Harrison - Senior Manager, Listings and Issuer Services, ASX
Aeroqual, developers of air quality monitoring systems, is another TIN company coming out of COVID in strong growth mode. As the company has transitioned from being primarily a hardware company to a hardware-enabled services company, CEO Mark Templeton says they're attracting increased interest as they move into this different space valuation-wise, including from private equity. So, what new approaches has he noticed?
"We're no longer spending long periods of time on a plane. It's much easier and more acceptable to conduct business via Zoom calls and I haven't come up against any resistance to invest in New Zealand remotely. New investors have come to us and are quite happy to consider making investments without having visited us and seen our operations face-to-face."
TIN member company ADInstruments makes scientific instruments for use in medical research and is 100% privately owned. CEO Alex Black says the company's main source of capital has traditionally been from their founders, and new investment opportunities have presented themselves since the pandemic.
"We are a very purpose-driven company and we've had great success in following the long-term vision and direction set by our founders," he said.
"A key reason why we've grown during the pandemic is that we design our own technology and have our own channel to market. The fact that we own the relationship with our customers puts us in a position of strength – we've seen companies in our industry who only have one or two products and no direct channel to market who have struggled in this environment. We have a diversified revenue stream which has given us access to interesting and exciting opportunities."
Greg Shanahan noted that TIN Reports over the past five years have charted a growing ambition for global domination among TIN companies.
"There's been a remarkable change in the profile of TIN companies. Five years ago, there were 38 companies with revenues over $50m, last year there were 56. There's a growing stable of ambitious companies and more funds available."
"What we're seeing now more and more is the emerging company size coming to public markets," added Blair Harrison; "Go back five years and it was a very different ecosystem, but now companies with high growth and good revenue, not necessarily looking to achieve profitability in the short-term, are being supported. Xero led the way with this."
Another shift over the past five years is that investors have had to upskill their research and analysis to fully understand how tech companies operate. Standard investment metrics may no longer be viable as the sector becomes more sophisticated and companies become cashflow positive, demonstrate growth and hit scale.
"The key piece of advice I'd give companies wanting to make themselves more accessible to investors is simply to be bold", says Blair.
"Don't be afraid to think you can be a global company. As a rule, New Zealand companies are very well run by people with high integrity and are well respected by a global investor base."
---
Trend Analysis. Research Tool. Prospecting List.
Become an official member of TIN and receive your copy of the Report at no added cost, plus discounts on exclusive events, opportunities to increase your company's profile, and connect with industry & government leaders.