TIN Member Spotlight: Modica Group
19 July 2021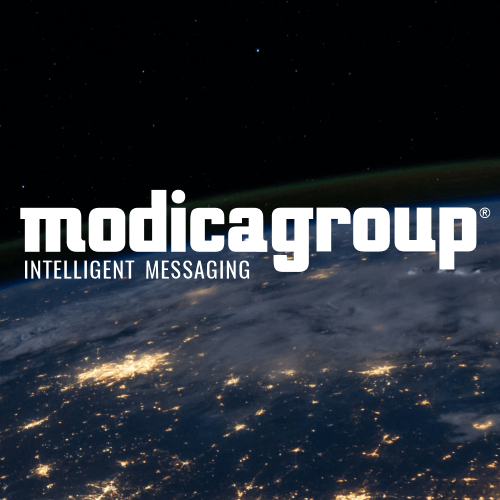 Modica Group provides critical SMS solutions via a cloud-based enterprise platform and refers to itself as the 'global intelligent messaging company' providing secure, high volume messaging for a wide range of clients in the Telecommunications, IT, Finance, Government, Health, Education and Media Sectors.
Established in 2001, the Modica Group entered the TIN universe in 2012, ranking 192 amongst the TIN200. Since then, the group has steadily climbed the ranks and had its debut into the TIN100 in 2020, after climbing an impressive 22 ranks. One of a successful cluster of ICT companies that have continued to drive the NZ tech export sector's growth, Modica Group has had four appearances as a Rising Star in the TIN report.
In March 2020, Modica Group raised $5 million through Northington Partners in order to boost investment in strategic partnerships across Australia, South-East Asia, Latin America and beyond and accelerate international expansion plans.
We followed up with Stuart and his team to find out how Modica's plans are going.
You mentioned in the 2020 TIN Report that your best business decision of 2020 was the (aforementioned) capital raise in 2020 to fund further international expansion and R&D initiatives. What are the key R&D challenges that Modica Group is currently focusing on? 

The cornerstone of Modica's FY21 business was migrating our technology infrastructure and data to AWS. Moving from servers to cloud computing was considered a strategic imperative to support our global growth ambitions.  We have reduced costs of maintaining data centers, enabling us to focus on providing differentiated enterprise messaging solutions, whilst changing the way we can serve our customers. The AWS global footprint has provided us the agility to enable quick scalability, whilst facilitating greater economies of scale.
What are your top 3 business priorities for this year to drive international expansion?
Wholesale partnerships 

Growth of our global footprint will be driven through more partnerships to create new channels and penetrate different markets. This will enable us to offer more diverse products and services to both our existing and new customers. So far, this element of our strategy is on track with Year on Year, Quarter on Quarter revenue growth up 92%. 

 Telecommunication Operator Partnerships 

 

We have a strategic focus on entering into ''Buy to Sell'' arrangements with Telecommunication Operators, predominantly within Asia and LATAM. They will use a "White-labelled" OMNI platform to sell to their SME, Enterprise and Government customers. 

 

Acquisitions

 

We are exploring a number of acquisitions in both Asia and LATAM that align with either our market entry needs or offer us strategic product synergies.

 
And what are the key R&D challenges that Modica Group is currently focusing on?
To address the key R&D challenges at Modica we have recently established an independent R&D squad to focus our efforts. This development team is working to evolve and grow our business and locate unique global opportunities. They are allowed increased freedom and creativity within our company policies to give them the space they need to do their best work. With this, we aim to ensure a no fear of failure mindset, whilst encouraging the rest of our staff to provide the R&D squad with any ideas they may have. 
In terms of focus relating to outcomes, the R&D squad is working on new technologies that build on top of our current products as we aim to evolve our messaging platform. However a large portion of their work is on new pivots, these pivots do link to our current product stack but are very independent. Strategically we believe that some, not all, of these pivots are where enterprise customers are wanting us to go to support their own business strategies. Furthermore, these pivots have been derived from extensive consultation with a number of our customers. 
This year, the quest for qualified talent is top priority for most if not all successful Kiwi tech exporters. What are your strategies to retain employees and attract new staff to Modica Group?
Recruitment of "Modicans" is a highly controlled process with a significant focus on the first value-based interviews, this ensures we maintain the current culture. Many of our most successful hiring experiences have been as a result of a personal recommendation and we want to continue this encouragement. A bonus is awarded to any member of staff who refers a candidate who is subsequently hired. From this, we have cultivated a team of like minded individuals who can cohesively work towards our goals, KPIs, and metrics.
We also find it very valuable to involve current team members in the recruitment process. We give a range of employees the opportunity to meet the potential new hire by being part of the interviews. Their opinions are heard and taken into consideration before making any decision.
At Modica, we have spent a lot of time encouraging the best from people, whilst also building a supportive and encouraging environment for our team. We provide employees with subsidised health, life, and trauma insurance plan, home broadband allowance, and state of the art tech kit to allow people to work from anywhere they please. We encourage fortnightly staff lunches and celebrations of important milestones to give people a chance to get to know each other and build a supportive community.
While cultivating this supportive company culture, the learning and development within our employees have grown exponentially, both from a focus and budget lense. Managers and co-workers are always available to assist in opportunities for growth and encourage pathways for those who need it. Modica provides extensive resources to support this program, such as training courses, manager mentoring, learning materials, time spent in other departments, and regular time periods dedicated to learning. Regardless of the growth of our business, employee development will always be a top priority.
Strategic partnerships are one of your core business expansion strategies according to Northington Partners (press release March 09, 2020).
Could you elaborate on the benefits of partnerships for expansion rather than establishing Modica offices in new markets?
We recognised pretty early that the quickest, risk mitigated, and efficient method for Modica to expand into new markets was via local partnerships.  In our industry, it is extremely advantageous to have local expertise, knowledge, and networks. We consider it almost a cornerstone to success. With these local fundamentals in place, we are able to continue to focus our time, resources, and dedication to our products and services.
This approach provides us with the ability to invest more time into Go-To-Market activities and remain patient for the right market opportunities. This provides us with more time on the ROI envelope and reduces our risk profile should our strategies not generate ROI and we need to exit quickly.
With such a strong focus offshore, what keeps you in New Zealand?
Modica is a New Zealand owned and operated company with a global focus. The founders decided very early on that they wanted to ensure Modica always remained a NZ based success story. Modica measures revenue in $NZD, earnings per FTE, PAYE/GST/Terminal tax growth, and foreign earnings to name a few to make sure we are achieving that goal. Initially, Modica started with a Wellington-based team and has now expanded to Auckland, Wellington, Taupo, Christchurch, Dunedin with an outsourced call

 
centre
 

in Blenheim. Globally, we have extended the team to Sydney, Melbourne, Gold Coast, LATAM, the UK, and Canada. We have also had to extend the thinking of our Kiwi staff base to work with our international partners in places as diverse as Indonesia, Dominican Republic, not to mention Australia. However, as we scale Modica into a global market, the theme will always be growing local wealth and bringing the margin back to New Zealand.
Click
here
to view the TINTech Directory listing to learn more about Modica Group.
Trend Analysis. Research Tool. Prospecting List.
Become an official member of TIN and receive your copy of the Report at no added cost, plus discounts on exclusive events, opportunities to increase your company's profile, and connect with industry & government leaders.